Okanagan Wedding
The Couple: Jamie & Clayton
The Date: October 3, 2020
The Place: Sail Away Vineyards, Naramata BC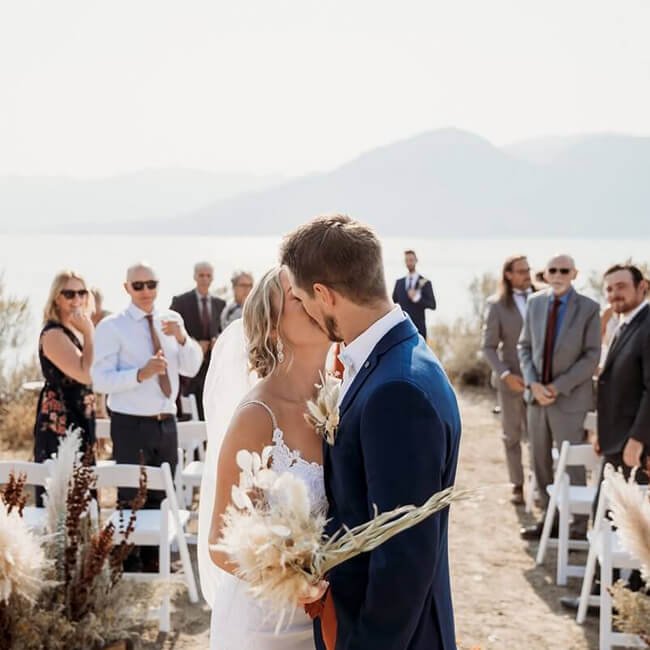 Jamie and Clayton were originally supposed to have a 180 person wedding at Claytons parents farm but when covid hit, they decided to save that celebration for next year and invited just their main family and maid of honour/best man for a 20 person wedding.
They found a darling Air BNB in Naramata called Sail Away Vineyards, their entire guest list was able to stay at one house for the whole weekend and the ceremony/reception took place on the same property!
The Air BNB has a gorgeous large deck, overlooking Okanagan Lake, they used it for the reception and put ample pampas grass and eucalyptus all around the tables. They made their DIY garlands using silver dollar eucalyptus…if you're looking for an easy and affordable way to create "wow factor" table decor, I would totally suggest this. Eucalyptus is super hardy, so you can make your garlands the day before and not have to worry about them. To make them, just cut your eucalyptus into pieces, and simply lay it on the table – so easy!
The dried bouquets were made by us… the bridesmaids had 'the Hazel' and Jamie's bouquet was 'the Claudette'…. Jamie did the DIY on the boutineers, using dried florals from us. The great thing about these bouquets…. they last forever! Great way to remember your wedding day, and have beautiful decor as well.
You're going to want to look through these photos, this is a stunning wedding! Great job on the DIY guys… and thanks for having us be a part of your special day!
xoxo
Sarah
Vendor Love: