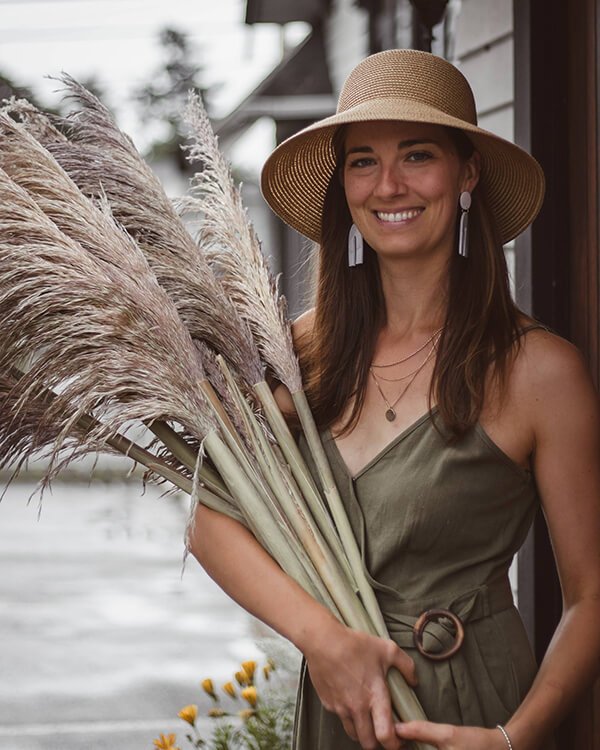 CANADA'S BEST FLOWER DELIVERY SERVICE
Meet Sarah! You Floral was created after Sarah was on the search for bulk flowers to DIY her Okanagan wedding in Summer 2019. She realized that there is a gap in the floral business, not that many options exist for the DIY'er – so Sarah decided to change that! Based in Victoria, Sarah has lived in many places throughout Canada, and is excited to serve couples in:
B.C (Lower Mainland, Greater Victoria, Greater Nanaimo, Shuswap, Kamloops, Okanagan, Larger centres in the Kootenays),
Alberta (Greater Edmonton (Includes Spruce Grove, St. Albert)/Calgary (Includes Cochrane, Chestermere, Airdrie, and Okotoks)
Saskatchewan (Saskatoon)
Manitoba (Winnipeg)
Saadet Avcı
February 25, 2023.
For adding an elegant air to my home
Christina M
February 22, 2023.
I had such a lovely experience with YouFloral. The customer service was excellent from quick email responses, flower suggestions, and frequent updates on my order. The flowers arrived quickly, they were well protected, and very beautiful. I would definitely order again from YouFloral. Sarah and her team are great!
Alycia Miller
February 17, 2023.
I ordered a wall arrangement for my salon and it's safe to say I'm obsessed and it completes the space ! Thank you so much for the beautiful addition to my studio!
natausha furlong
February 16, 2023.
Sarah is such a creative, kind and passionate person. I love going to her classes and learning how to make gorgeous arrangements. Wouldn't recommend anyone else.
Kith Kin Charcuterie
February 15, 2023.
Amazing floral, amazing attention to detail and so easy to communicate with. Such an amazing experience!
Shelley Jomaa
February 15, 2023.
Beautiful Valentine's Day bouquet of flowers, with the option to purchase cookies, which were delicious. Easy and flexible pickup options, beautiful flowers, reasonable prices. Highly recommend!
Megan Park
February 15, 2023.
I had an amazing experience working with You Floral. Highly recommended.
Emily Lavinskas
February 15, 2023.
I recently received some beautiful dried florals from You Floral, and I have to say I think they're the most beautiful dried flowers I've seen yet, and with such a great selection. They shipped from BC to Ontario with no damage at all, and I was able to use the flowers to create a wreath that now hangs on my bedroom door. Highly recommend, both for dry & fresh flowers if you're local to the shop!
Jesse Duncan
February 3, 2023.
The most stunning customized dried arrangement! The design, colors, and details were so perfect! Highly recommend! 🤍
A Repeat Romance, You Floral Dominates in The DIY Wedding Flower Industry For Third Year Running
We are absolutely delighted to share the news that Our Floral has been awarded the title of Online Florist of the Year for a consecutive two years! This prestigious honor acknowledges the pinnacle of the online flower business, and speaks to the caliber and innovation of our products and services. We owe this accomplishment to our devoted customers, and we are enormously thankful to the more than 300 couples and families who trusted us to provide the flowers for their special occasion. We will persistently strive to surpass your expectations and create even more beautiful weddings.