Meet Sarah! You Floral was created after Sarah was on the search for bulk flowers to DIY her Okanagan wedding in Summer 2019. She realized that there is a gap in the floral business, not that many options exist for the DIY'er – so Sarah decided to change that! In addition to running You Floral and providing flowers for the DIY'er, Sarah teaches wreath workshops, floral arranging classes in Victoria. If you're interested in taking a class, or having a corporate event, get in touch!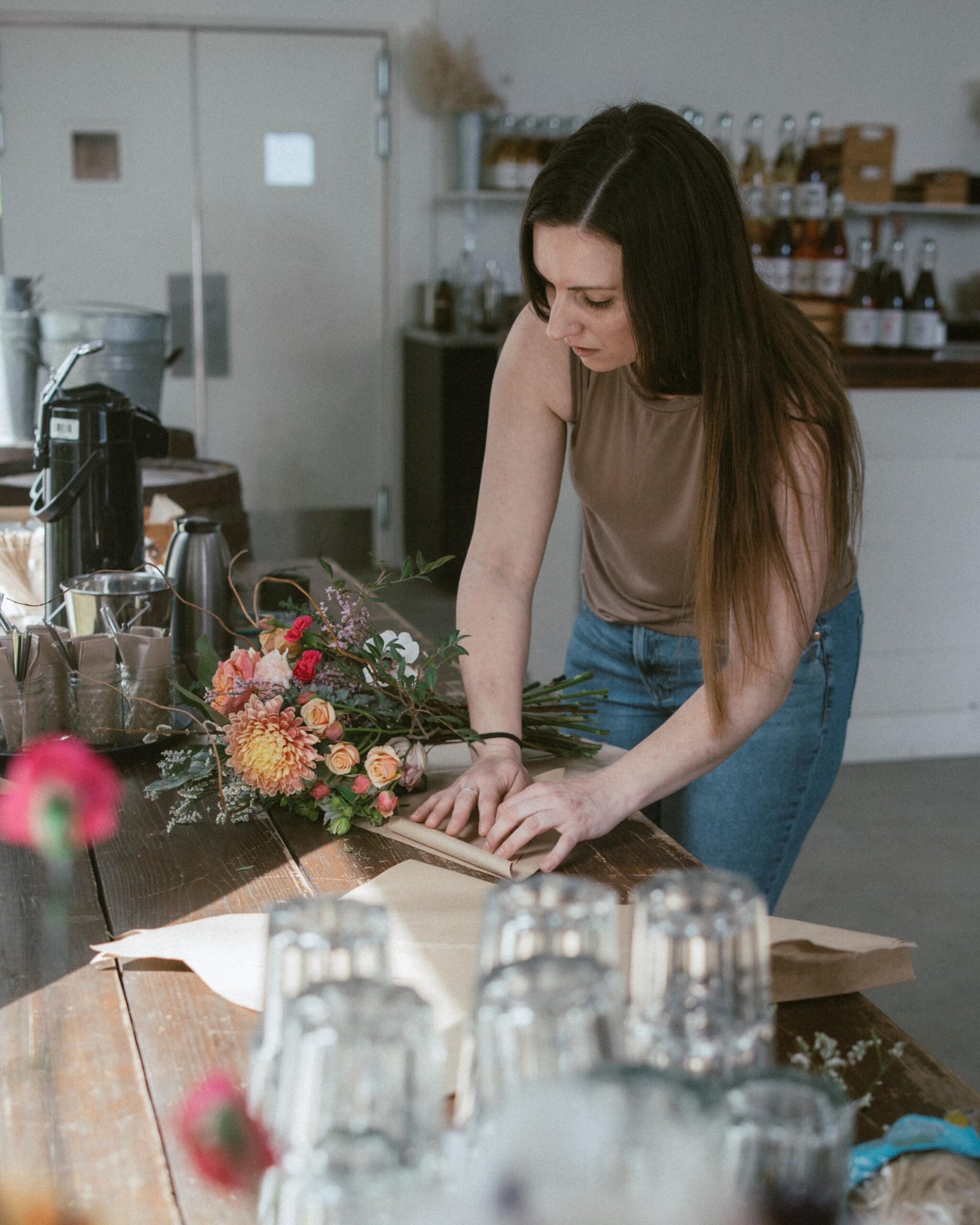 Meet Tracy – Florist Extraordinaire!
Meet Tracy! Tracy has many hats…mother to four children, social media influencer, florist, social media strategist, and organizer extraordinaire! Tracy is responsible for curating the great content we get out to you guys, making sure your orders are accurate and delivered on time, and answering any and all questions that arise as you undergo this DIY'ing journey!
Lexis Lane
June 16, 2023.
As a wedding photographer on Vancouver island I get SO excited when I see Sarah's beautiful work at weddings. Her talent and passion towards florals is remarkable and she is so kind, patient and professional. I love to recommend her work to my wedding clients and I'm confident she will always do such a great job.
Bryce and Danielle Alliston
May 10, 2023.
You Floral held such a fun floral workshop at Sea cider I got the pleasure of doing with my mom and grandmother for Mother's Day. I would highly recommend their workshops to anyone and even attend another in the future.
Julia Harrison
May 8, 2023.
So much fun! My mom and I had a blast putting together these bouquets! Looks a lot easier then it actually is, but it was wonderful, highly recommend 🙂 Thanks so much YouFloral!
I attended a workshop with YouFloral to learn how to make a spring spiral bouquet and it was so fantastic! The workshop was held at Sea Cider, which is a beautiful and bright space with ocean views. We were welcomed with cider mimosa's and the cutest sugar cookie was displayed at our seat. We were provided a demo and instructions on how to create a spring spiral bouquet. I have always felt like a creative person and have struggled with floral arrangements in the past. I definitely have the insight now on how to create a beautiful floral arrangement. The blooms and greenery provided were stunning and plentiful. There were 3 instructors to offer us support while we were arranging the flowers, and help tie and wrap the bouquets (most of which were pretty giant). I will be enjoying my floral arrangement for the days to come. My family members are definitely impressed with my new skills. 😉 What a wonderful way to spend a Saturday morning. Thank you, You Floral!
Alexa Rose
April 29, 2023.
Definitely would recommend this distributor for your wedding florals. We ordered over 100 roses for our wedding. They arrived in excellent condition and it was easy to rehydrate them. Sarah is a wonderful human who has a wealth of knowledge. She helped me put together a bridal bouquet completely composed of piano garden roses.
Konner Sloat
April 24, 2023.
I had an amazing experience with You Floral. From the initial call for details right up until delivery everything went smoothly and the flowers were beautiful!
Ashley Sloat
April 24, 2023.
I had the best experience with You Floral. Sarah helped guide me through selecting flowers and had the best tutorials that were incredibly helpful for making centerpieces! I would recommend Sarah and You Floral!!
Nermin yelboga
March 28, 2023.
I like to get something next to my mirror and I got the pampas grass after use hair dryer and spray looks amazing. It is much bigger than pictures I love it 😍
A Repeat Romance, You Floral Dominates in The DIY Wedding Flower Industry For Third Year Running
We are absolutely delighted to share the news that Our Floral has been awarded the title of Online Florist of the Year for a consecutive two years! This prestigious honor acknowledges the pinnacle of the online flower business, and speaks to the caliber and innovation of our products and services. We owe this accomplishment to our devoted customers, and we are enormously thankful to the more than 300 couples and families who trusted us to provide the flowers for their special occasion. We will persistently strive to surpass your expectations and create even more beautiful weddings.