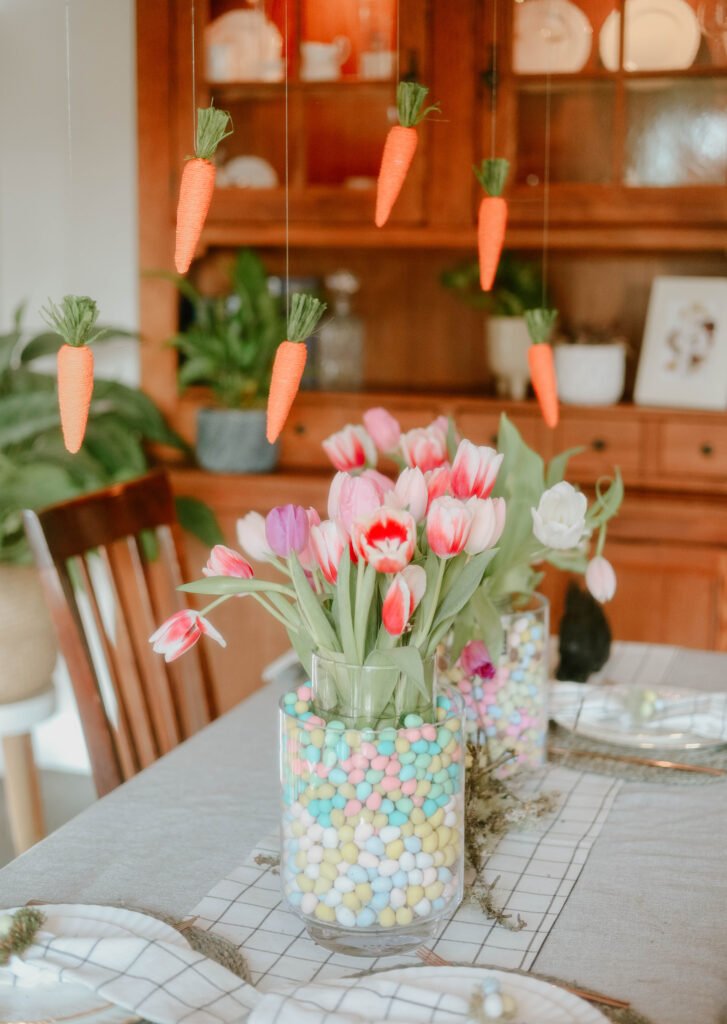 How to: Create an Easter Inspired Tablescape
Follow along to learn how to recreate this fun and festive Easter tablescape! The inspiration for this project was DIY. I brainstormed up all of the fun ways that I could DIY and create a beautiful Easter tablescape that is easily achievable with a budget!
Napkin Rings
The napkin rings were created using shower curtain hooks, mini eggs, and moss from my yard. I took a shower curtain hook, and simply hot glued a piece of moss, with a few mini eggs on top of each. I chose cloth napkins that fit within the esthetic, and, once they were prepared, I added one to each plate around the table.
Centerpieces
I created the centerpieces using mini eggs, and local tulips. You will need two vases, a tall, narrow one, and a shorter, yet wider one. First, add water to the tall vase for your flowers, ensuring the outside of the vase is dry, and then place the tall vase inside the shorter one and start filling the area between the two with mini eggs. You don't want your vases to have too much of a size difference as you'll require a lot more mini eggs. Once you've added enough mini eggs, add your flowers!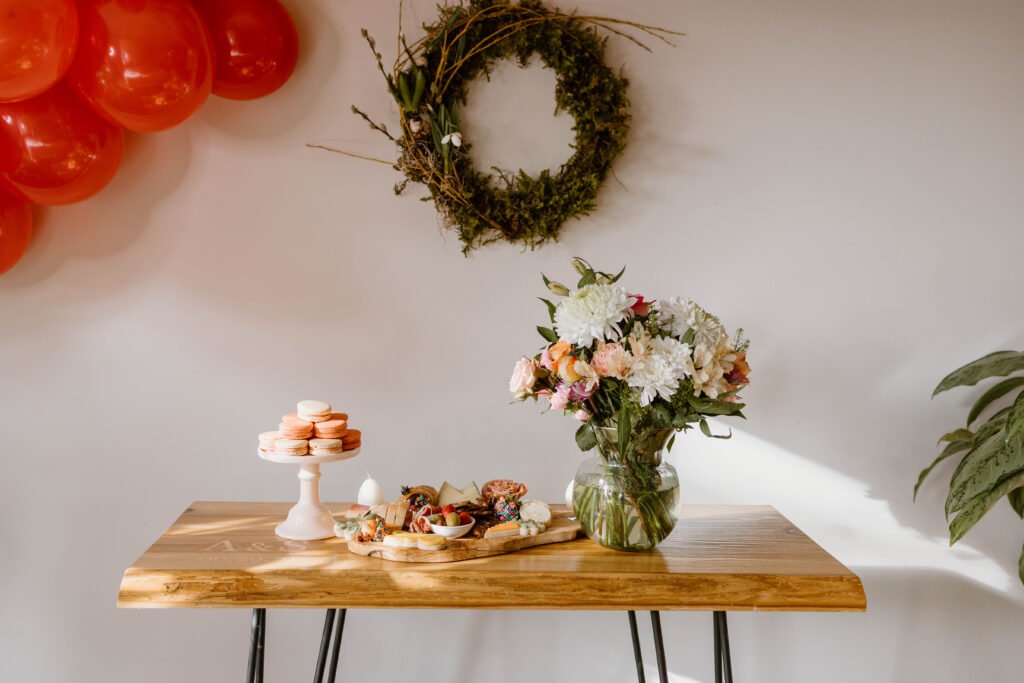 Easter Wreath
For the Easter wreath I used moss, live flower bulbs, pussy willows and willow branches. I used a wire wreath frame, and using 24 gauge wire, I attached the moss first around the entire frame, and then added the embellishments on top, also using wire.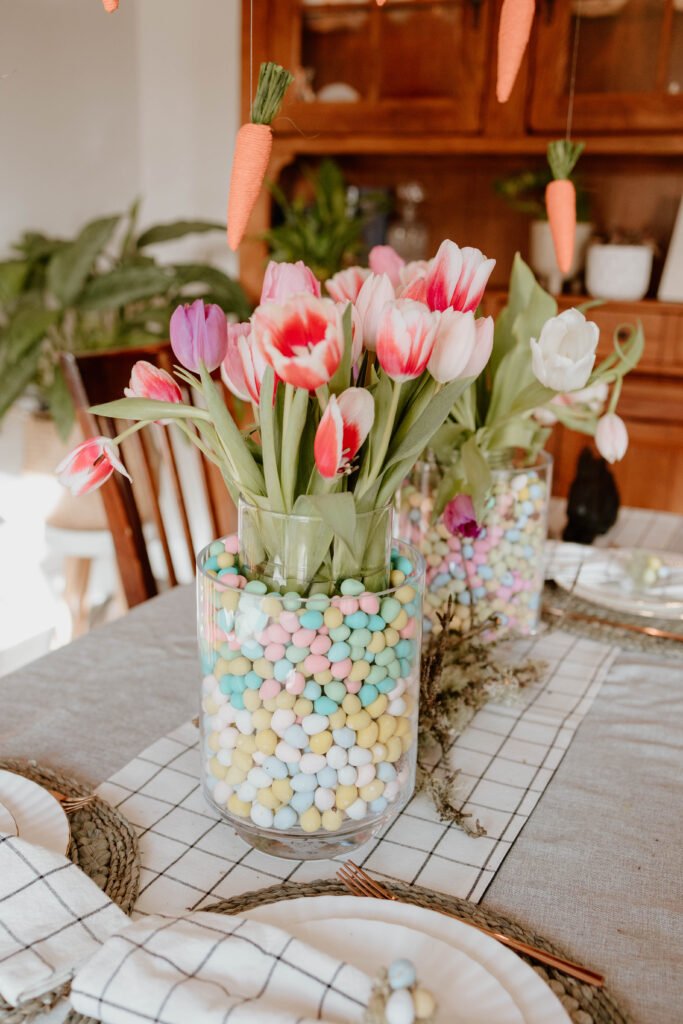 Hanging Carrots
I suspended the carrots from the ceiling with fishing line. To attach them to the ceiling I tied the fishing line around the carrot stems, then tied the fishing line around command strip hooks attached to the ceiling.
Charcuterie
Charcuterie boards are my go-to for entertaining, they are so beautiful and really elevate the design. Kith & Kin is always a great choice for charcuterie!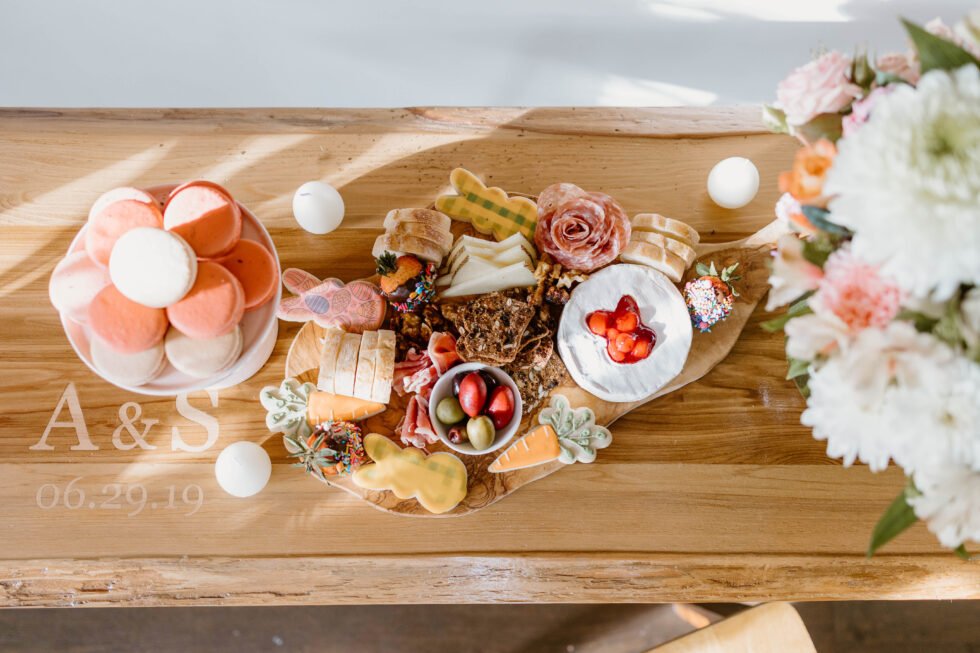 Cookies & Macaroons
I love adding in luxury custom cookies and macaroons into the charcuterie boards to customize it to the season and add to the intentionality of the design. We used macaroons from Mama Made Cakes, and cookies from Chantastic cookies.
Balloon Garland
A balloon garland is a fun addition to any event. This garland was created by Rose and Co Events and it looks amazing framing the festive food display!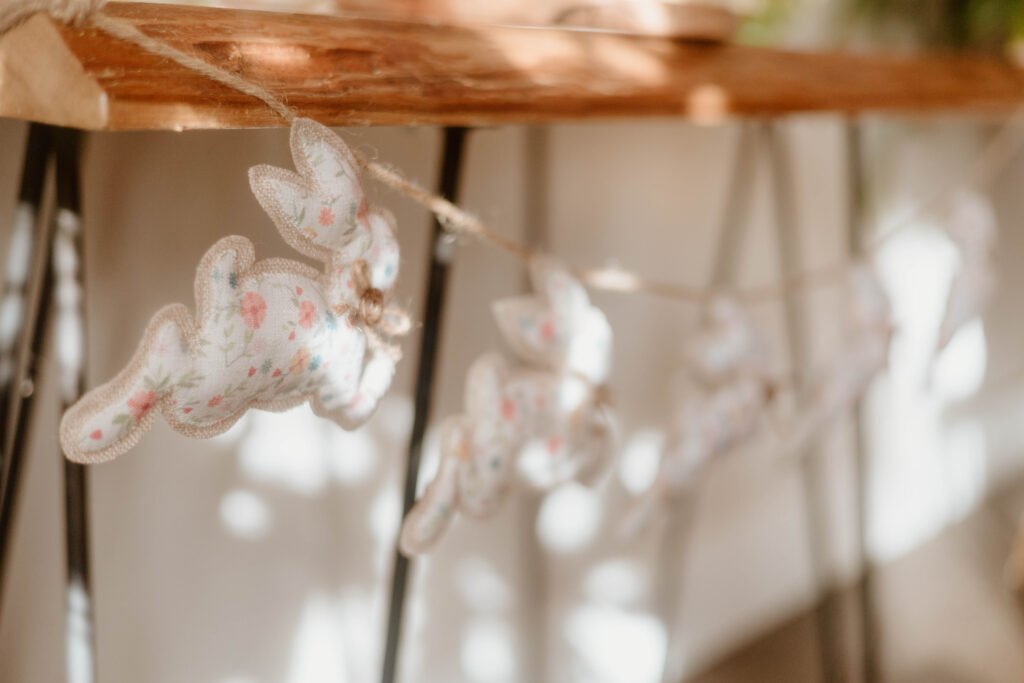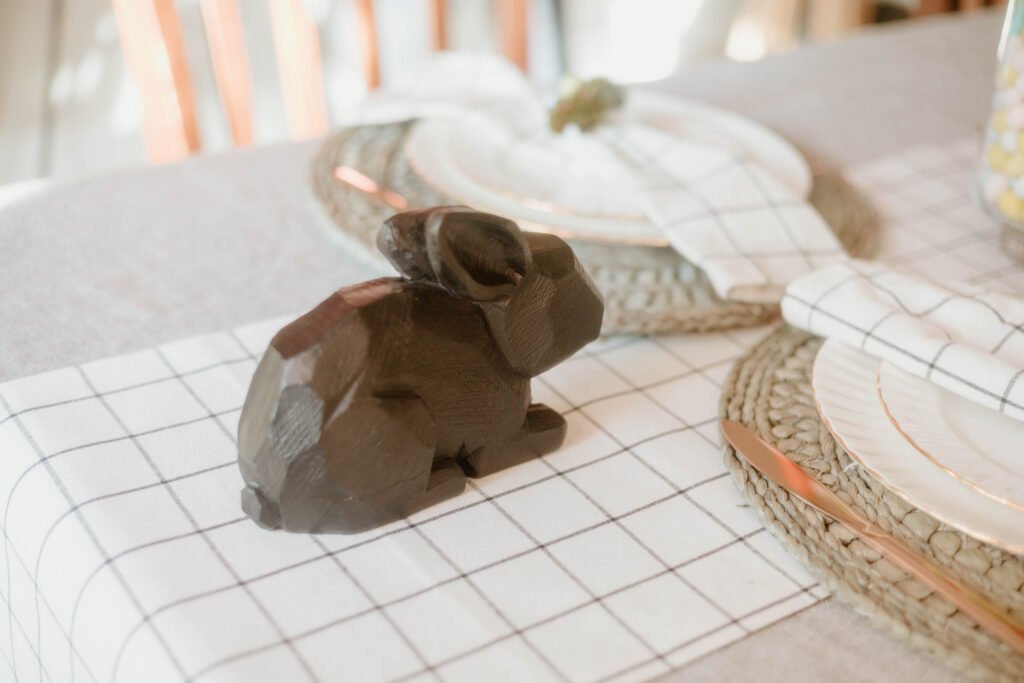 "Shop" your home
By "shopping" my house, I was also able to find cool and chic items that I already owned that were easily incorporated to bring a cohesive look to the styling. For budget projects like this, it's always a good idea to try to utilize items you already own to keep costs down!
I hope that this inspires you to create your own Easter tablescape that is easy, affordable, and accessible! Disclaimer: you WILL end up eating far too many mini eggs recreating the centerpiece. Make sure you buy enough to make up for any "losses". 😉
Included Vendors: