Have you heard… dried flowers are this year's hottest trend! Dried flowers are perfect for both vintage and modern weddings, and there are so many amazing unusual blooms, seed pods, and dried grasses that you can incorporate. Not ready to fully commit to a dried bouquet? You can always dry your own bouquet, and keep it as a keepsake!
Endless shape and texture are what you'll get when plunging into the world of dried flowers – and don't worry, there are lots more to choose from than just dried roses or lavender! You can always just dip your toes into the world of dried flowers, try a combo of fresh and dried!
While you can dry essentially any flower, some are better than others – we thought we would give you some tips!
Grasses such as pampas grass, wheat, and bunny tail
Leaves such as eucalyptus
Fronds such as palm leaves and ferns
Branches such as lunaria and cotton
Seed Pods such as poppy seed pods, scabiosa
Flowers such as chamomile, limonium, statice, craspedia, baby's breath, roses, lavender, carnations, and protea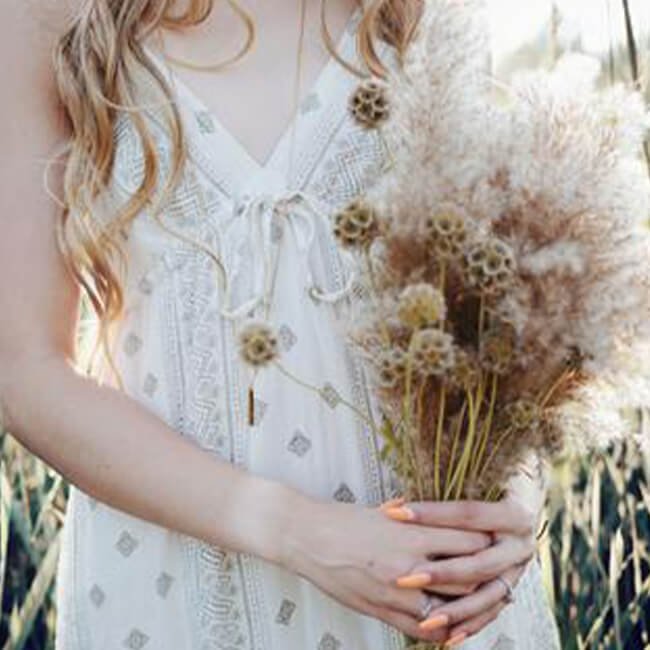 Why we love dried flowers!
They are low maintenance, no risk of them wilting!
You can incorporate a sentimental flower, maybe you still have the rose from your first date, or some lavender from your granny's garden
Dried flowers last a long time, your bouquet can be kept forever!
Credit:
Photo by Kaitlyn Dawn Photography
Florals by You Floral (www.youfloral.ca)