Bright Colours and Pizza… A Wedding to Remember

The Couple:
The Location:
Ceremony: Riley Park garden area in Calgary, AB
Reception: Double Zero Pizza
The Wedding Date: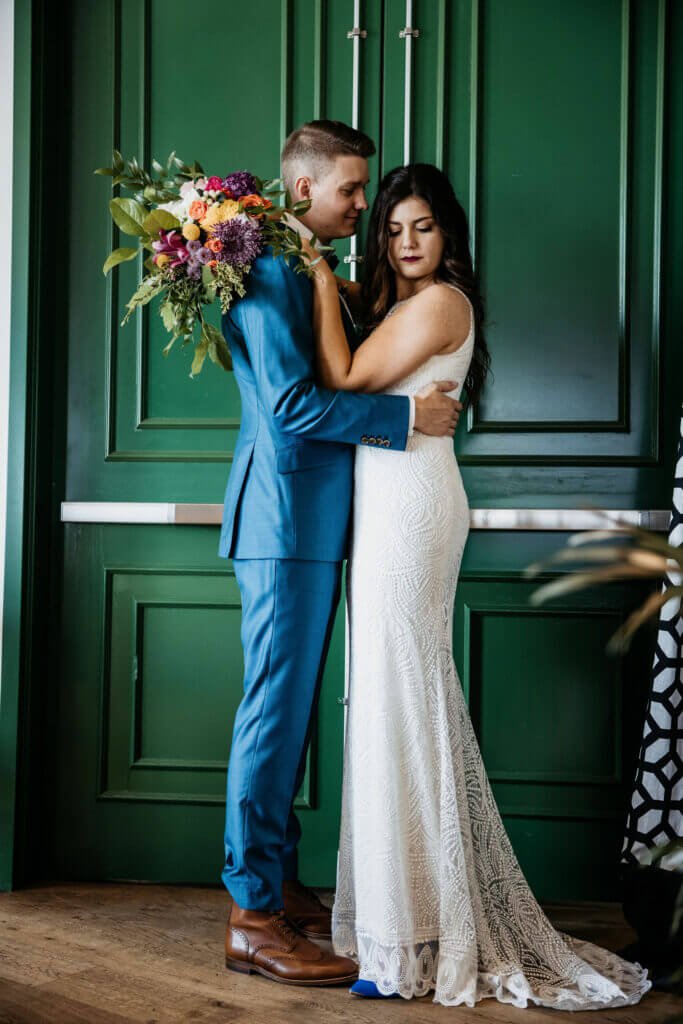 I connected with Katie after their wedding to get some insight into their special day and ask her a few questions that were burning in my mind! I hope her insight helps you as well as you plan your DIY wedding.
Let me know if you have questions you'd like me to ask future DIY wedding couples as well!
xoxo
Sarah
Q: What tips would you give to someone who wants to DIY their wedding flowers?
A: Get more greenery and fillers than you think. Watch some videos beforehand on how to put together the style of bouquet that you're going for, and don't expect it to be perfect. Also, you want to put together the bouquets and especially the corsages as close to the wedding as possible for freshness, but it also took us several hours to do all of the arrangements so leave yourself enough time!
Q: Why did you choose to DIY your wedding flowers?
A: Cost savings mostly – I wanted a BIG bouquet, and also wanted to incorporate flowers from my mom's garden
Q: Did you DIY anything else at your wedding ?
A: Absolutely – probably a lot more than most brides lol. I DIYed basically everything: the flowers, the signage, decor, name cards, favours, designed the stationary, my mom made the cake, I even altered my own dress….
Q: What was the "theme" of your wedding?
A: Bright colors and pizza? 😛
Q: What was your favorite part about your wedding
A: I run a small wedding coordinator business and see tons of brides with major anxiety about all the tiny details of their wedding, packed schedules, expensive decor, everything traditional – I wanted none of that. Our wedding was super simple and straightforward. We got married in a beautiful garden and brought chairs and aisle signs. That was it. The reception was at a restaurant where we already loved the decor and the food was great. We had flowers on the tables and a few personal accents, we served pizza for dinner and had an absolutely blast. Honestly one of my favourite things looking back at the photos was the flowers… and I'm not just saying that. I LOVE that the girl's bouquets, including mine, are absolutely bursting with color, I love how big they are, and they really tied together the feeling of cool, casual, bright, fun, and relaxed that we were going for.
Q: Anything else you'd wanna share?
A: As a "covid bride" (we got legally married on our original wedding date in 2020 and waited to have a big party in 2021), all I can say is that its worth the wait to have the wedding you've always dreamed of. We feel SO lucky with the timing of our wedding in relation to the restrictions and looking back there isn't a single thing that I had in my mind for my wedding day that I didn't end up getting to do.  Despite the huge stress of the pandemic, we also feel like there were some major silver linings – smaller guest list, less pressure to conform to expectations, guests with some pent up partying to release – so ultimately my wish for all of the brides out there is to experience what I got to experience!
Their Recipe:
Salal x 2 bunches
Silver Queen Pitt x 2 bunches
Italian Ruscus x 2 bunches
Craspedia x 2 bunches
White Hypericum x 1 bunch
Vendor Love: