The Couple: Josh & Leah
The Date: September 5th 2020
The Place: Oak Bay Beach Hotel – Victoria BC
I love when clients become friends… such as the case with Leah. We "met" through Instagram, and over the course of a couple of months, I joined Leah on her floral journey and got to love her as a person.
Leah had a clear vision for their wedding, like many weddings, covid caused a detour (or 17…), but she persevered, and as the photos show, her day was epic. Keep reading to see how she incorporated pineapples into her wedding, in a couple of ways!
Leah loves pink. That much is a fact. Since 2012, she's dyed her hair pink every summer. She figured she needed to reel it in a bit for the wedding, soooo… pink hair was out. Nevertheless, pink still made an appearance, even down to ombré pink veil, ordered custom made from the United Kingdom.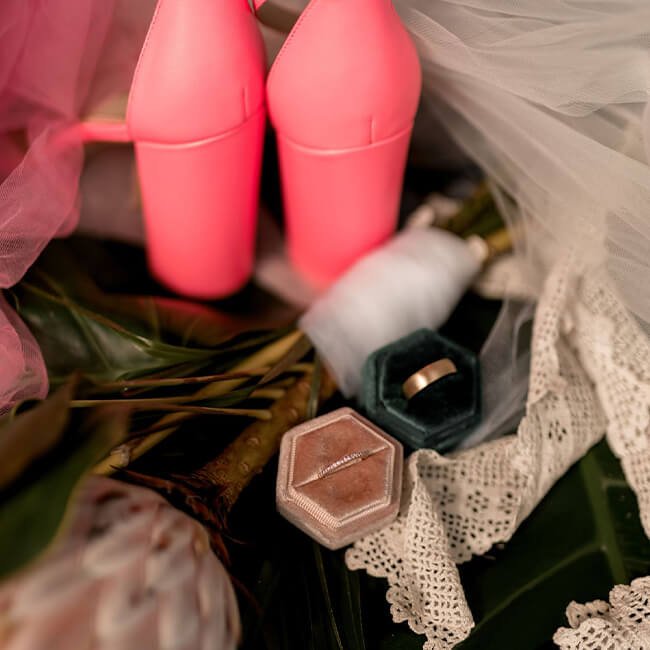 Leah and Josh have never been one for traditional wedding themes. Funky, bright, and colorful weddings really called to them, and especially anything to do with the tropics. Pre-covid, they were avid travelers, even though a destination wedding wasn't on the tables, it didn't mean that they couldn't bring the tropics to them. Leah LOVES pineapples (she even has one tattooed on her arm), if you look closely, you'll see she incorporated one into her super tropical bouquet – such a unique idea!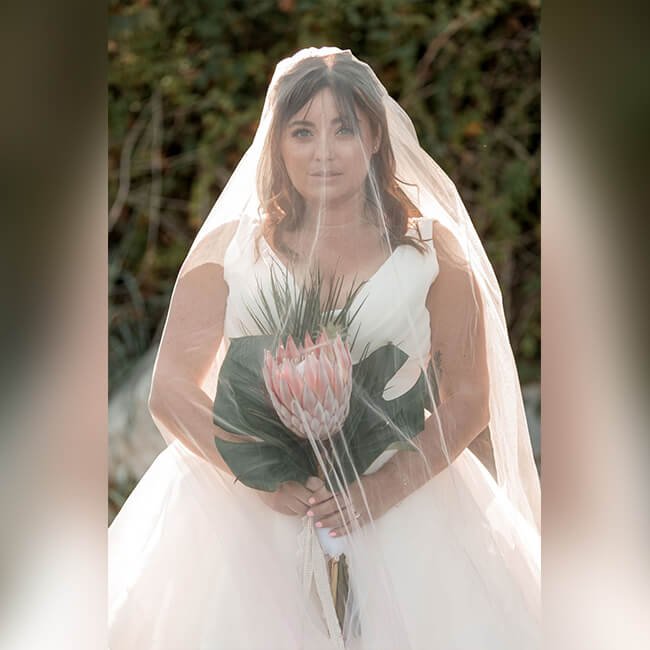 Leah's bouquet was full of meaning. We've already covered the significance of the pineapple, now let's talk about the King Protea and monsterra leaves.  Her parents have been to Africa a few times, and as that is where proteas originate, she wanted to tie that into the wedding in one way or another (better a flower than renting a cheetah or something). This King Protea is the BOMB, everyone should have one of these…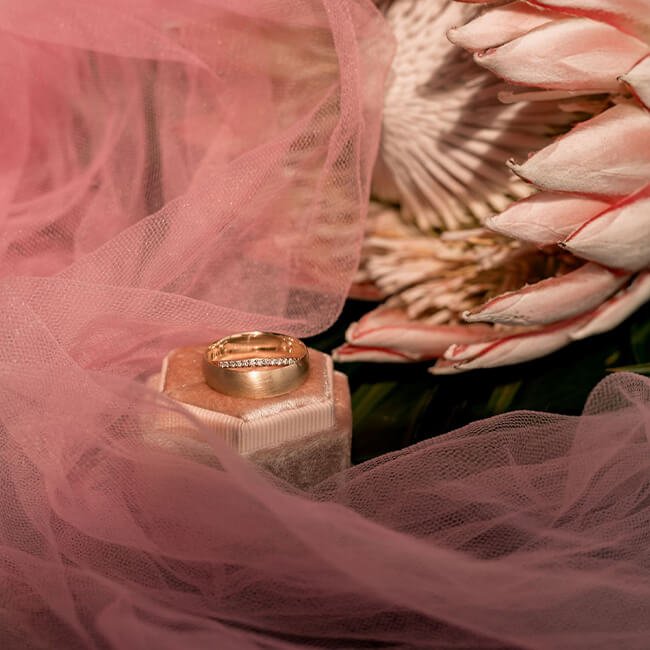 The wedding was held at the gorgeous Oak Bay Beach Hotel in Victoria. They walked down the aisle to XO by John Mayer (Beyoncé was a bit too upbeat though…she is Queen Bey for a reason). If you're located on Vancouver Island and haven't checked this place out – it's a must-see/stay.
I hope you enjoyed reading about Josh and Leah's special day – if you're looking for DIY florals (in Calgary/Edmonton/BC/Winnipeg/Saskatoon) hit me up!
xoxo
Sarah