The Online Floral Delivery Industry in Canada is Booming
Each year, more and more businesses are offering flower delivery services. Data from Statistica's research showed that sales from flowers and plants in Canada reached $1.82 billion in 2021.
With so many florists and suppliers to choose from, it can be hard to know which one is the right fit for you. And, with the added pressure of finding the cheapest option, it's no wonder that many people give up and go without flowers altogether.
When I think about cheap, it's not always about the price.
Let me give you an example.
A baker could choose lower-quality flour to make a cake. It's flour, and it will still end up with cake, right? However, there is no guarantee that the end product, the cake, will end up with the same taste and quality compared to when the baker uses their usual good-quality flour.
The same thing goes for flowers. Sure, you could go to the cheapest online flower delivery website you can find, but what guarantee do you have that you will get beautiful and good-quality blooms? That they would even end up looking as they did on the website's picture and not ruin your perception of "expectation vs. reality"?
That's why, when thinking about saving money, you should think about cost-effectiveness as well. And when looking for a florist that offers both cost-effective and impressive-looking flowers, You Floral is the answer.
Are Flowers Cheaper at Costco?
As a florist, I get this question a lot. People always want to know if flowers are cheaper at Costco. In short, no, they're not.
Again, cost-effectiveness comes into play with this.
While the price of flowers at Costco may seem cheaper at first glance, a closer look would prove to be otherwise.
One reason for this is that the blooms you get at Costco can be hit or miss. At times, they look fresh and vibrant. Other times, you end up with an arrangement that doesn't quite meet your expectations, so you essentially get less than you expected in terms of quality compared to us.
Another thing to consider is that Costco, like other big box retailers, is only cheaper when buying in bulk. Unless you need 50 stems of roses for a particular event, heading to a different online florist may prove to be more cost-effective.
Moreover, you also need to consider that Costco only delivers from Tuesday to Friday, which means that if you need your online flower delivery on a weekend or are looking for same-day delivery, they will not be able to accommodate your order.
When Ordering Flowers, Should You Sacrifice Quality For a Good Price?
Flower delivery is a beautiful way to brighten someone's day or as a show of affection for a person.
However, they can also be quite expensive. When ordering from your online florist, should quality be sacrificed for a good price?
There is not really a straight answer to this question.
You see, it depends on a few factors you need to consider.
First, think about how long you need the flowers to last. Flowers are perishable items, and most recipients desire to keep them for as long as possible. This article I came across by Insider teaches you the best practices to keep your flowers alive and fresh. If you only need them for a short period of time, then it may not be worth it to spend extra on high-quality flowers unless you can get them for a good price like on our website.
Second, think about the occasion for which you need the flower delivery for. If it's a very special occasion, then splurging on the best florists you can find may be the way to go.
Choosing when to splurge on your blooms and when to sacrifice quality is really up to you. As they say, there is a time for everything and that is something you need to decide on.
Special Occasions and Holidays, You Floral is your Vancouver Online Florist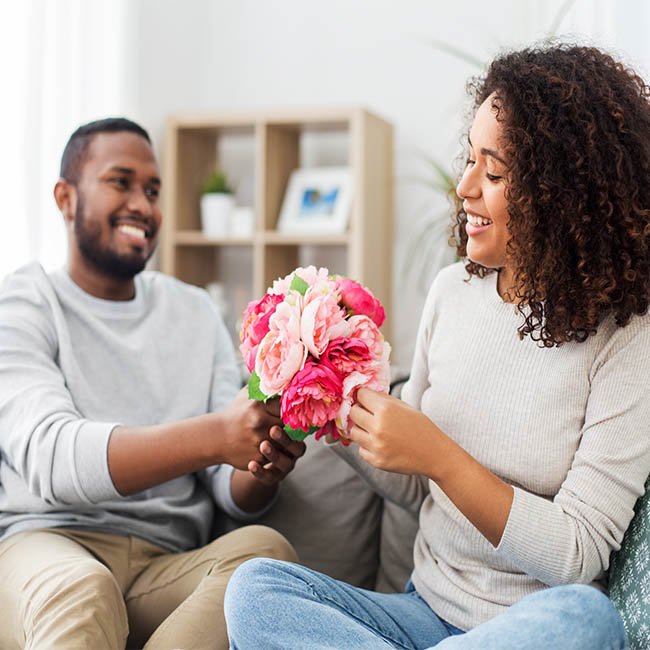 One of the most common reasons for people to buy flowers is because they want to send them as a gift. One can't go wrong with sending flowers as a gift. It is one of the best ways to show someone that you care and are thinking about them.
YouFloral is your top choice for flower delivery in Vancouver. We make the process of ordering flowers online easy, convenient, and affordable.
Not sure which flowers to get for your loved one? No worries. Our friendly and professional florists in Vancouver can help you with recommendations on the best flowers to get for your special occasions, events, and holidays.
We offer flower delivery in Vancouver, BC, and surrounding areas including Lower Mainland, Greater Nanaimo, and Greater Victoria. We also expanded our flower delivery to serve the areas of Alberta, Saskatchewan, and Manitoba.
Not everyone has time or money to visit a florist in person, so they need another option. That's why we created an online flower delivery service with same or next-day flower delivery, so you can always send flowers on time and never worry about running out of time.
If you are looking for a reliable florist in Vancouver BC then we are your best choice!
Customizing Your Flower Arrangements Online
Whenever I need flowers, whether it's for a special occasion or 'just because', the first thing I do is search for a florist near me.
But what if there was an easier way to get the flowers we want, without even leaving the comfort of our homes? Enter, online flower delivery!
Online flower delivery is a convenient way to get the flowers you want, without even having to leave your house. You can customize your flower arrangements to suit your specific needs, and can even have them delivered to your door. Plus, with online flower delivery, you don't have to worry about dealing with traffic or fighting for a parking spot.
Florists are experts in choosing, arranging, and delivering flowers. They know exactly what type of flowers to use for different occasions, colors, and designs.
Your florist can give recommendations with proper communication from you. Since this transaction is not done in person, it's important to let your online florist know of your needs, including what the occasion is, the preferred colors, whether the flowers are meant to be used for decorating or to be given as gifts, as well as what kind of person the recipient is. This can help your florist create an arrangement that is tailored to your needs as much as possible.
Does It Matter If You Order From an Online Florist That's Outside Of Vancouver?
Online flower deliveries are a great way to get fresh flowers delivered to your door.
There are many benefits of ordering flowers online. Personally, I can order from a florist that is not in my city and have them delivered to me the same day – or even the next day. Some shops offer same-day flower delivery, so I don't have to worry about not having time to go out and buy flowers.
However, this all depends on where one life and what type of flower arrangements one wants. In some cases, it might be better to order from a local florist. Ordering locally makes it possible to see the flowers and arrangements in person, so it's easier to vouch for them.
It is a lot more convenient to get your flowers from an online florist though, especially if you live in a busy area and have difficulties with traffic and parking. However, it is vital that you get your flowers from trusted and professional suppliers. We are able to service many cities in Western Canada due to our uncanny ability to ship flowers with precision.
YouFloral is your trusted source of online flower delivery in Vancouver. We have friendly and professional online florists to help you choose your flower designs and arrangements regardless of which city you reside in.
How We Overwhelm Our Customers Who Have Smaller Budgets?
When choosing which flower arrangements to get, we can't deny that budget is a big point of consideration to help our customers decide.
This is something we fully understand at YouFloral, which is why we willingly work with our customers' budgets.
Communication is vital for us to provide you with the best blooms for your budget. Just because a customer doesn't have thousands to expend on their order doesn't mean we need to skimp on the quality of the flowers.
Planning a budgeted wedding? No worries. There are ways to get the blooms you want for your wedding without breaking the wallet. Not only that, there are steps you can do to keep the flowers fresh so they look fresh and vibrant for your event.
Let us know of your needs and budget when you contact us at YouFloral. Our skilled, friendly, and professional florists in Vancouver are ready to help you choose. We have bulk packages for flowers, dried products, garlands, and DIY weddings.
Final Thoughts On Why You Should Consider Ordering Your Flowers From an Online Florist
There are plenty of blooms we can mix and match, not only to suit our customers' budgets but their tastes as well. With the holidays coming up, our customers can also benefit from our tips in creating their DIY Christmas centerpieces and festive decorations for their front doors.
Give us a call today at YouFloral and let's discuss how we can help you.