Eucalyptus is amazing for all many reasons, including it's beautiful aroma, color, appearance, and versatility. It can be used for its aesthetic appearance to decorate your home and the beautiful fragrance will keep your rooms smelling fresh. The great thing about eucalyptus is it's versatility, whether fresh or dried, you'll have many moments of enjoyment.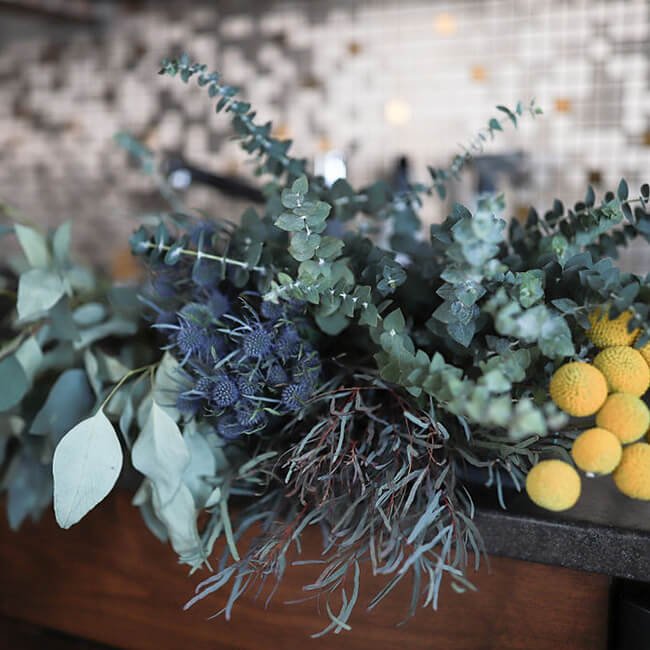 The wonderful about eucalyptus compared to flowers is its resilience. Long after a bouquet has to be sent to the compost pile, a bunch of eucalyptus can still be used as decoration or turned into anything from a wreath, to a wall hanging, or a natural dye.
I'm going to attempt to answer all your 'burning' eucalyptus questions, if you have more – leave in comments!
How long does it last out of water?
The average lifespan of a eucalyptus stem out of water is about 1-2 days, this makes it a fantastic choice for weddings – no worries about making a garland and leaving it!
How long does eucalyptus last?
It will stay fresh for about 3 weeks, depending on things like heat (it doesn't like being in hot rooms), how often you change the water, and how often you cut the stems. To prolong its life you should change the water regularly, and cut the ends using pruning shears about once every 3-5 days. Dried eucalyptus will last forever!
Scent:
Fresh eucalyptus has a vivid and vibrant scent (some varieties smell more than others – baby blue eucalyptus is the most fragrant) once it dries, it'll lose the scent.
Color:
The natural fresh color is a muted sage green, and as it dries, the color fades to a deeper hue and takes on more of a 'silver tone'. As time goes on, the coloration will continue to deepen.
Use in bouquets:
You can use both fresh and dried eucalyptus in bouquets, the fresh is easier to work with, given the flexibility of the stems. Once the eucalyptus is dried, the leaves and stems are more rigid, requiring a bit more finesse and care to avoid causing the leaves to break.
Use in showers:
Fresh eucalyptus is ideal for hanging inside your shower, the steam will release the essential oils, giving you a spa like experience! The best type to use is baby blue, as it has the most scent. Once you notice the scent dissipating and the leaves becoming rigid, remove them from your shower and compost – or put them in a vase for an everlasting bouquet.
Which ones smells the most?
The baby blue eucalyptus has the strongest scent, the others definently have a scent, but it is more subtle than the baby blue. You'll notice that the scent is so pronounced with the baby blue, it'll be on your hands just from handling it!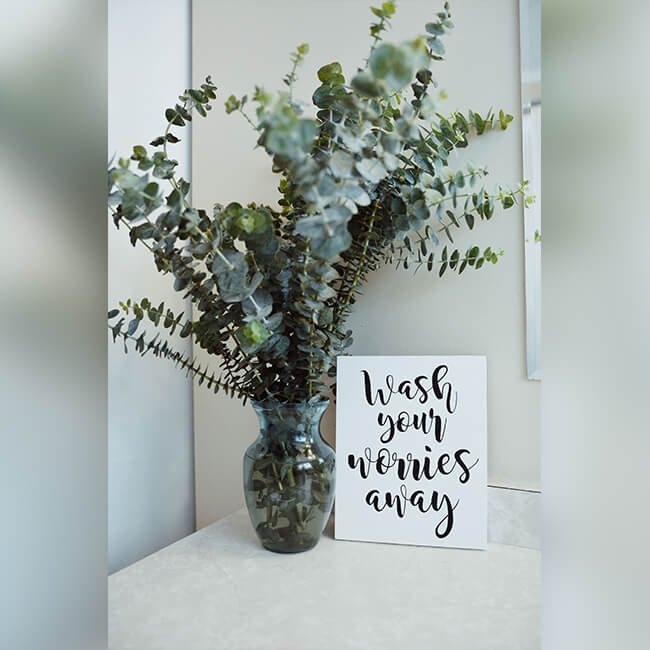 Types of Eucalyptus
There are more than 700 species of eucalyptus!!! We carry silver dollar, baby blue, seeded, parvifolia, and willow.
Where does eucalyptus come from?
It is native to Australia, which is obviously very far away from us! Ours comes from California, and a fresh batches comes each week.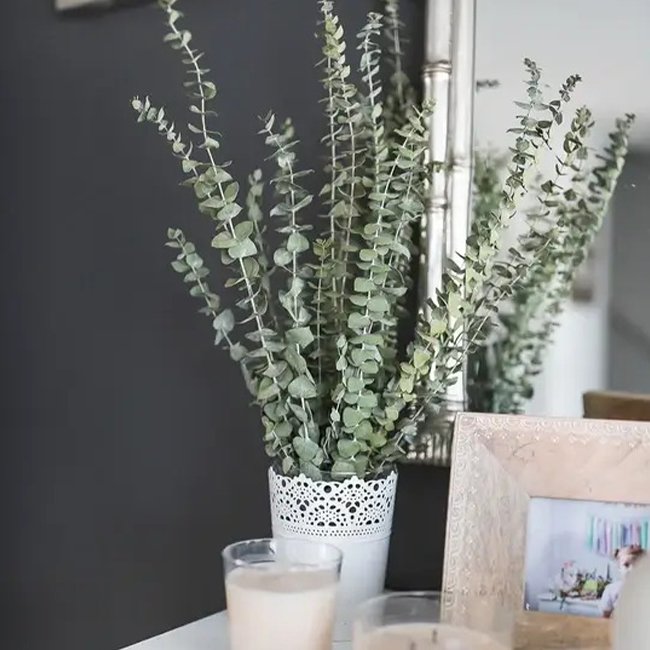 Whats the difference between the types?
Baby blue is the classic eucalyptus. It's a tall single stem with outward branching stems up the whole stem. The fragrance is amazing and it dries really nicely.
Silver Dollar Eucalyptus is the classic wedding garland and bouquet choice. This one has those large, more round leaves that kind of bounce. You've probably seen large bouquets of this one for weddings (all over Pinterest!) and smaller stems in vases for home decor. I love to break up a large stem of silver dollar eucalyptus into smaller vases for different vignettes around the house and decor on open shelving.
Seeded Eucalyptus has larger stems (compared to the silver dollar eucalyptus) and can be broken down into smaller stems for little vases. It's called seeded eucalyptus because of the seed pods. One thing I will note about this one is that the seeds are heavy, they have a tendency to "droop", so you'll need to cut them into smaller pieces or find flowers/other greenery to support them.
Willow eucalyptus had a delicate appearance with small long leaves. I really love the shape of this one! It has a "drooping" appearance, and it's perfect as a space filler.
Parvifolia eucalyptus – Like all eucalyptuses, it's extremely hardy and lasts a long time. The lightness of these leaves adds a unique feeling of up-lift to any floral arrangement you add them to. The great thing about this eucalyptus is how upright the stems are, no droop here! The semi-negative thing, the end levels can get a bit stanky, but just pick them off and boom- problem solved.
I hope you guys enjoyed learned about eucalyptus… if you want to buy your own, I've got lots of options to purchase!
xoxo
Sarah