We're planners and list makers – so we thought we'd make you guys a list of essential supplies to gather in advance of your florals arriving! Prepping in advance will make your life so much easier, no one likes making a mad dash last minute and discovering that every store in town is randomly sold out of buckets!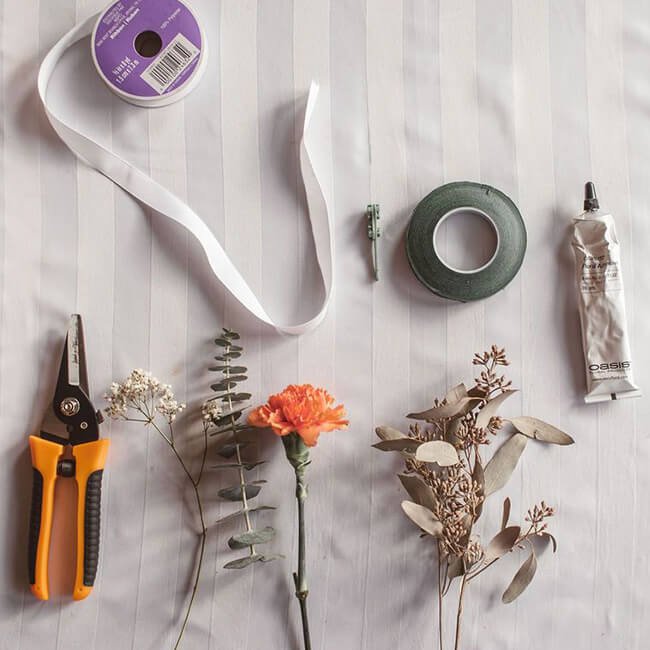 We've put on our thinking caps and come up with some items that will help make your DIY experience successful and fun, keep reading if you like lists!
Time
They don't call it the gift of time for nothing! Set aside time to both prep, and arrange your flowers. Calling in your best bud or two is a super smart idea, it'll be way more fun, and many hands make light work!
Work space
You don't need anywhere fancy, but having a folding table on hand is helpful so you can spread out and work if your kitchen table isn't large enough for you and your buds.
Fridge Space
Do not store your bouquets in the fridge!!! However, if you're making boutineers, you can put them in the fridge overnight to keep them in peak condition.
Vases/Mason Jars
After you make your arrangements, you'll want to keep them in water until your day, so they'll need a space to wait and hang out.
Buckets
Gather together some water holding receptables (tupperwear bins/buckets from hardware store/bathroom trash cans). You don't want to crowd your flowers or they will bruise, so make sure you have enough (good rule of thumb is 2 bunches per trash can). Don't combine flowers with short stems in the same buckets as your greenery, they will let lost/squished!
Waste bins
You are going to have a lot of stems and leaves lying about, keeping your workspace tidy by putting waste into a bin will go a long way to keeping you organized and on track.
Snippers
Kitchen scissors aren't sharp enough, and your gardening shears are likely too bulky for most stems. Snippers are quite affordable, have a few pair on hand so that you don't have to arm wrestle for snipper time.
Floral tape
Floral tape is the key to bouquet and boutineer making, buy a roll or two.
Boutstix
This is just a suggestion if you're making boutineers, but these magnets make it so much easier to make boutineers – and they also don't result in pin holes in the fancy suits!
Ribbon
Ribbon is a fun addition to your bouquets, and a way to incorporate your color scheme.
Hot glue
Having a hot glue gun on hand is helpful to secure ribbon, you could also use pins if you wanted. IMPORTANT: Do not use hot glue on flowers, buy floral glue if you plan on gluing blooms.
Transport tubs and tissue paper
Having a plan is always a good idea, and strategizing how to transport your flowers shouldn't be left out! You can use cardboard boxes or plastic storage tubs, just be sure to have ample space; you don't want your arrangements getting crushed. Crumpled newspaper or towels can help create space and secure them in place (no one wants arrangements falling all over the place as you careen down the highway).
There you have it, a list of must have things, and a couple tips and tricks as well! if you have any questions, feel free to drop us a line anytime – contactyoufloral@gmail.com
xoxo
Sarah
Credit:
Photography by https://www.whitneyearl.com/
Florals by https://www.youfloral.ca/