With its beautiful lush greenery and soft green hue, eucalyptus garlands are the perfect tool to take your wedding, holiday, or event decor to the next level! This blog covers how easy it is to make an easy DIY eucalyptus garland.
This tutorial covers how to make a thick eucalyptus garland, if you're looking for a lighter look – you can for-go the wiring and just loosely place the eucalyptus on the table. If you use this method, you'll need about half as much eucalyptus.
Step 1: Gather Your Supplies
Pruners (scissors aren't sharp enough)
Thin gauge wire (20-24 gauge)
Silver Dollar Eucalyptus (1 bunch per 4-foot length of the table) (you can use other types of greenery, like salal, ruscus, or cedar)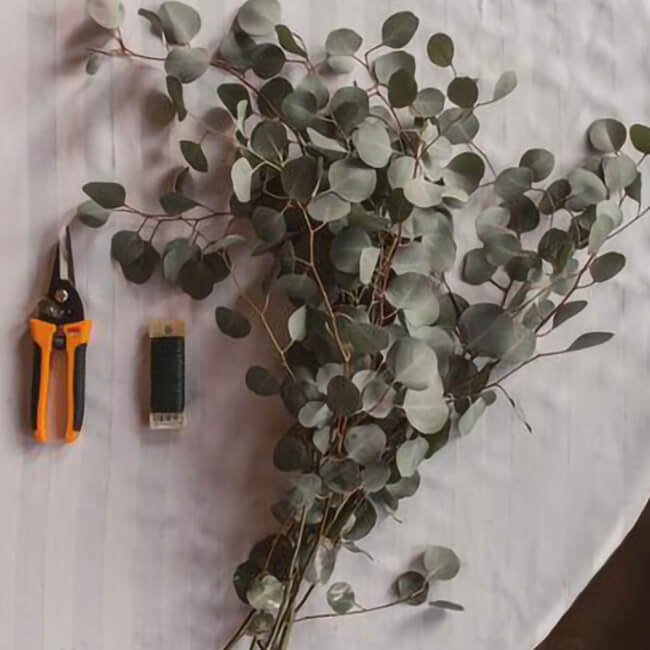 Step 2: Prepare Greenery
Cut the stems into even sizes, and combine 3-4 stems together into bunches.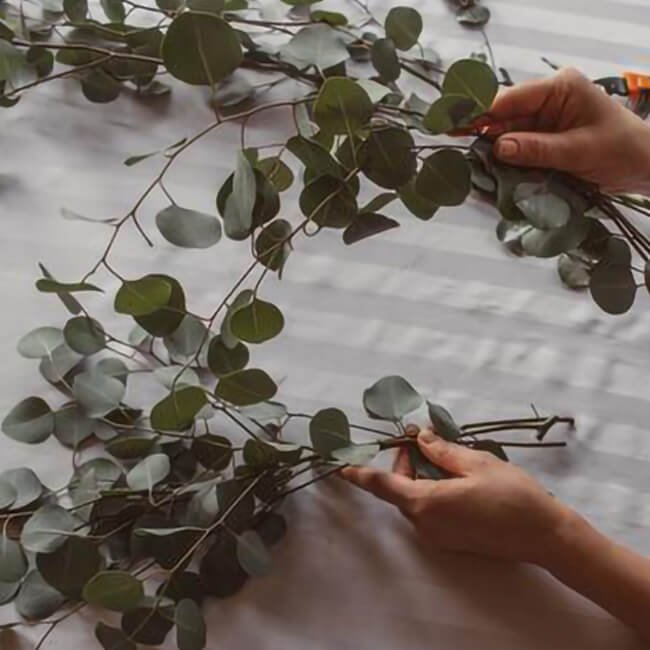 Step 3: Assemble Bunches
Wire the bunches together, you don't need a lot of wire, just enough to ensure the branches stay together (wrap around about 4 – 5 times). The number of bunches you'll need to create depends on the length of your garland.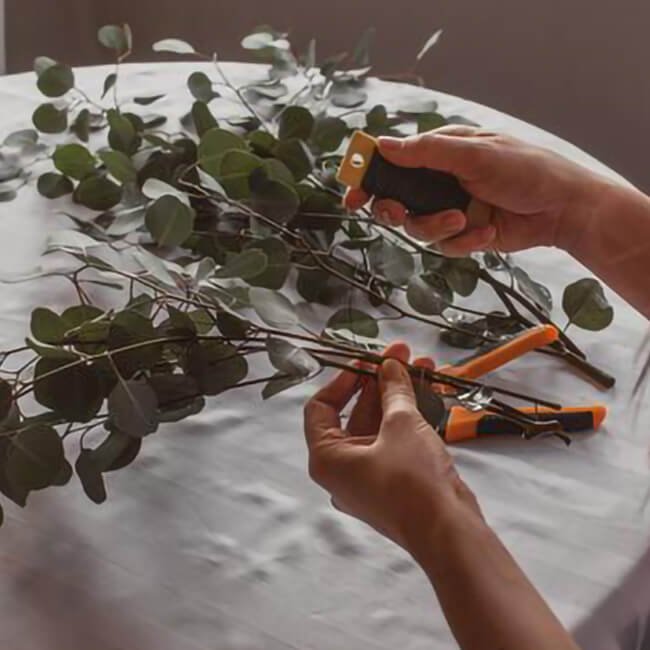 Step 4: Begin Creating Your Garland
Place the next bunch of greenery about 3-4 inches down from the first bunch, covering the stems of the first bunch. Attach the bunches together by wrapping them with wire. Continue layering greenery bunches and securing with wire until garland has reached the desired length.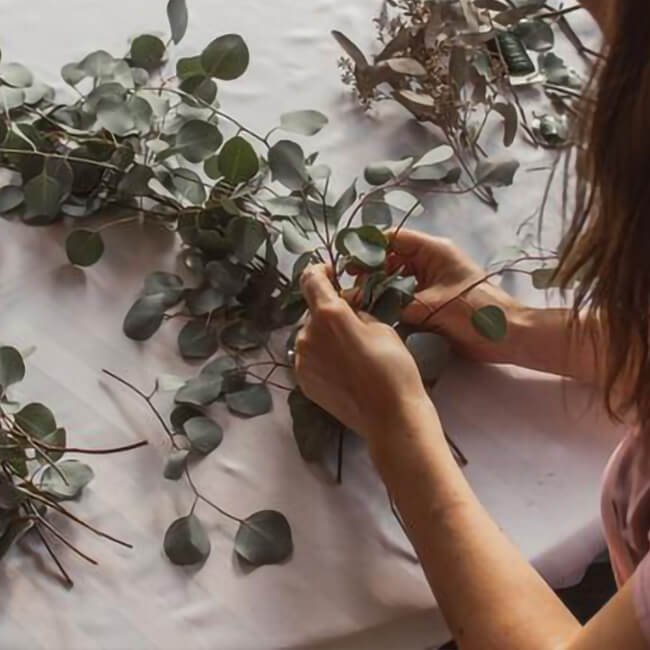 Step 5: Finish
As you work downwards, you'll end up with the bottom of the stems showing. To cover this, turn the last greenery bunch in the opposite direction and hide stems by tucking into the leaves of the previous bunch, and then wire it in place.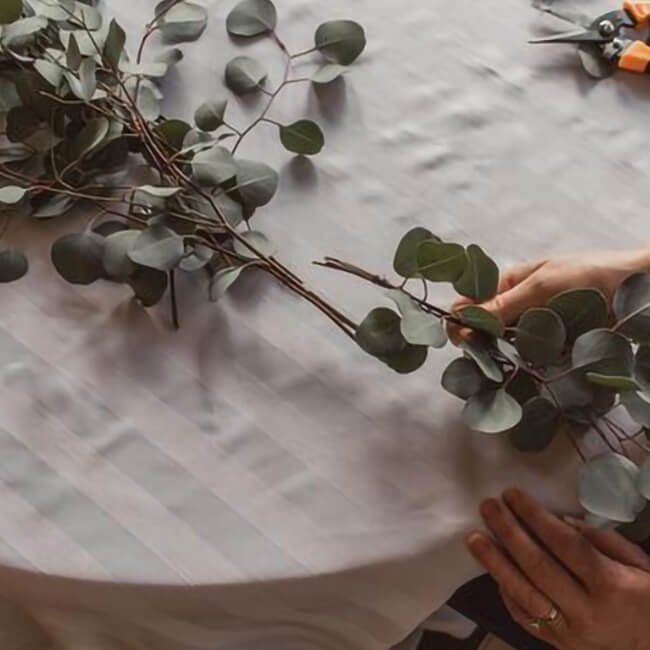 Step 6: Add Embellishments
Add in any embellishments you want, seeded eucalyptus is a great addition, or you can add in flowers as well. If you're adding in flowers, add them last minute as flowers do best when in the water!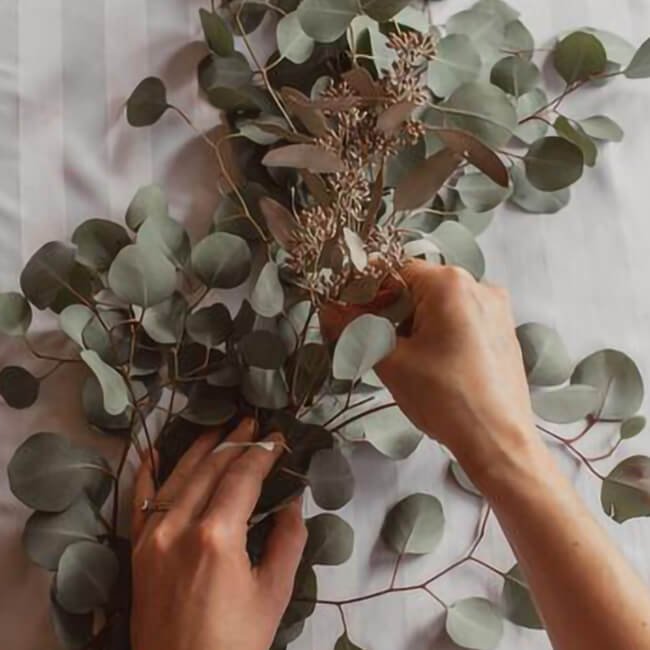 Step 7: Ta-da! You're Done!
Eucalyptus is super hardy and will last for weeks if it's kept in water. If you're making it into a garland it's ideal to make this garland as soon to your event as possible, the day before your event is ideal. Without water, the eucalyptus will begin to dry, but that is also a beautiful look as well!
Credits:
Eucalyptus by https://www.youfloral.ca/
Photography by Whitney Earl Photography (https://www.whitneyearl.com)