6 easy ways to incorporate dried flowers into your holiday decor
In case you haven't heard…dried flowers are all the rage right now! Incorporating them into your holiday decor will elevate your designs, and best of all, you can re-use it year after year.
Keep reading for 6 easy ways to incorporate dried flowers into your holiday decor, to really make it extra beautiful and memorable!
xoxo
Sarah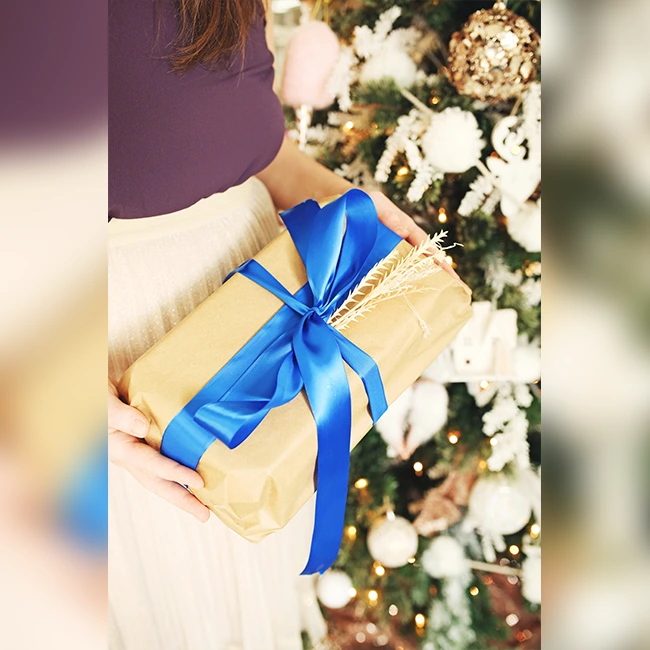 Tip #1: Add Dried Flowers to Gifts
Christmas gift wrapping can be so wasteful… but it doesn't have to be that way! I've started using craft paper (many of the sparkly or metallic design wrapping papers aren't recyclable), and then embellishing with a beautiful ribbon, I save the ribbons (in my ribbon box LOL), and then can use them year after year. To really spice it up, add in a little miniature dried flower bouquet, it adds beauty to the gift, and the recipient can then put it in a vase after – a bonus gift!
Tip #2: Elevate Napkin Rings
Napkin rings are another great spot to incorporate dried flowers…using cloth napkins already brings it up a notch, then I made napkin rings by threading wooden beads onto twine, and then tucked a little bundle of pampas grass behind the beads. The airyness of the pampas really accentuates the wooden vibe of the ring.
Tip #3: Create a Garland
Eucalyptus makes for a fantastic garland, I used dried here for this tablescape, but you can easily use fresh too. I started my first year with a fresh bundle, but it dried well and now I an use my dried bundle year after year. You just have to be careful when you store it, the leaves are a bit brittle when they're dried. To learn how to dry eucalyptus, check out my blog about it here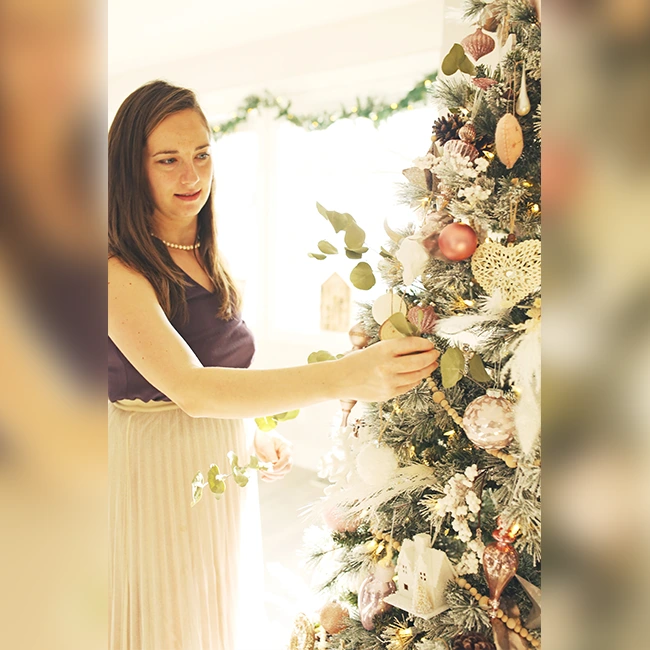 Tip #4: Put Some Eucalyptus in Your Tree!
Don't use up all your eucalyptus on the table scape, save some to stick on your Christmas tree! This unique trick will have your guests noticing how cool your tree looks, a wee bit boho!
Tip #5: Incorporate Bud Vases
Invest in some bud vases – they are so versatile for decor… in summer you can fill them with blooms from your garden, and in winter you can make miniature arrangements with some greenery (cedar/fir/whatever grows in your neck of the woods), or fill them with dried florals! I like to put odd numbers on my table, five bud vases is a nice number for a large table, or three for a smaller table. You can make your own bundles by mixing together a couple different types of dried flowers (I suggest a mix of 3 to 5 different types – a nice combo is bunny tails, buttons, ruscus, and slender pampas) or buy a pre-made bundle.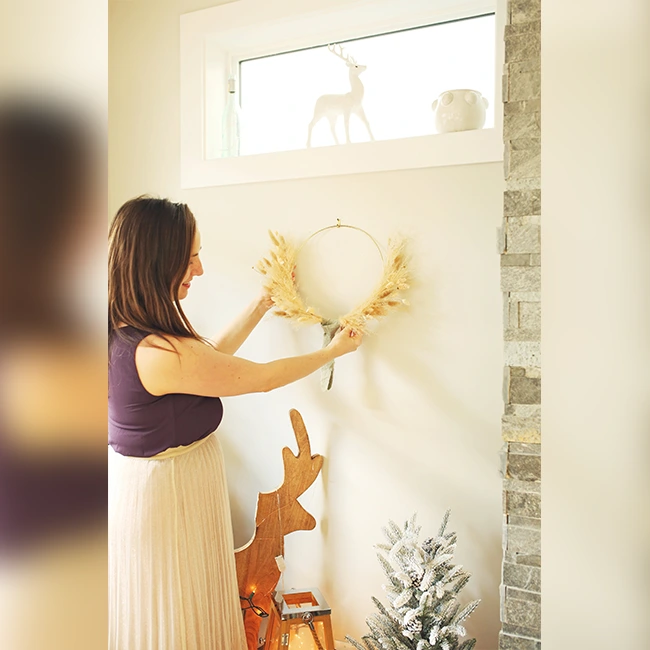 Tip #6: Hang a Wreath Indoors
Wreaths aren't just for your door outside… they are fantastic to have inside! Its quite easy to make your own dried wreath (I've even got kits you can buy!)… and the best part, since they last forever, you can keep them up longer than just the holidays.