Traditionally, flowers are an important part of every wedding ceremony. Other than the wedding dress, they're one of the most photographed items at a wedding, and the majority of your photographs will be of you holding your flower bouquet. That is why special attention should be paid to the choice of flowers.
In this blog we are going to talk about four easy steps you can take to ensure that your flowers are beautiful, reflect your personality, and tie in with the venue.
They are two different ways to go about creating your floral vision; both will make your venue look beautiful and enhance the overall decor, which option works best for you is simply a matter of preference!
You can get a florist who will supply the flowers and you make the arrangements yourself. If you're thinking of going this route, check out our DIY wedding floral package and have some fun while assembling our gorgeous fresh flowers into stunning wedding arrangements!
You can hire a floral designer who will execute your vision and do all the creative work. This method is less effort but will cost substantially more than doing the work yourself.
Work around the season your wedding takes place in
Floristry by: Freewill Field & Flower
Some may argue that the season doesn't matter since anything and everything can be imported these days. While that is indeed true, flowers that are flown half way across the globe are a lot more expensive than ones sourced locally. Peonies in December may be theoretically possible…but it'll cost a pretty penny!
Flowers will usually take 8% of your wedding budget; try not to strain it by focussing too heavily on out of season flowers that need importing.
Do your research
Photo by: Alicia Hoogveld Photography
Planning a wedding is not an easy task. You want everything to be perfect, and this can be overwhelming. To make sure you cover everything, it's best to make a list of all the important things that you shouldn't miss on your wedding day. One of those things is making sure that your flowers look gorgeous!
Check Pinterest for ideas, talk to other couples to see what they did for their weddings, and speak to florists and floral designers. Buy flower and bridal magazines and check what's trendy and what will work for your budget.
Don't forget your venue
Floristry by: Freewill Field & Flower
Before you get caught up in roses and hydrangeas, don't forget that your flowers need to work in the venue you book and fit the vibe.
Three important tips for working with your venue are:
Think about the vibe of the venue – For example, a flower arch made of sunflowers and pampas grass may work for a rustic outdoor wedding but might look out of place in a church setting.
Think about how large your space is. Too many flowers in a small room can make it seem even smaller and overwhelm guests, just as too few in a large room can look clumsy and out of place.
Flowers aren't limited to the bouquet you and your bridesmaids will be carrying. The venue's decor, flowers, table arrangements, and possibly arch arrangements should all be in harmony. If you have muted tones in the arch and bridesmaid arrangements, it is best to keep that vibe throughout, and not switch to bright and vibrant colors on the table centerpieces.
Make your bouquet the starting point
If you start with your bouquet, you can plan the bridesmaids' bouquet, table centerpieces, and aisle markers around the colors reflected in the bride's bouquet. It makes planning easier, and you can make sure that your whole theme comes together beautifully.
Lastly…Experiment and have fun!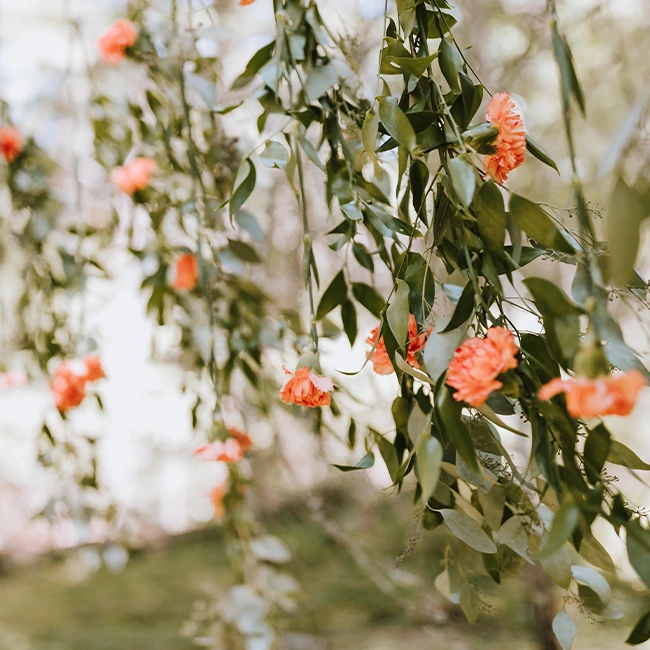 Design by: Your Dream Theme Event Design
With all that said, enjoy choosing flowers and planning for your arrangements, keep an open mind, and experiment with different combinations before picking what you want. And most importantly, don't forget to enjoy and make beautiful memories on your wedding day!