Jessi & Kyle –
Kananaskis AB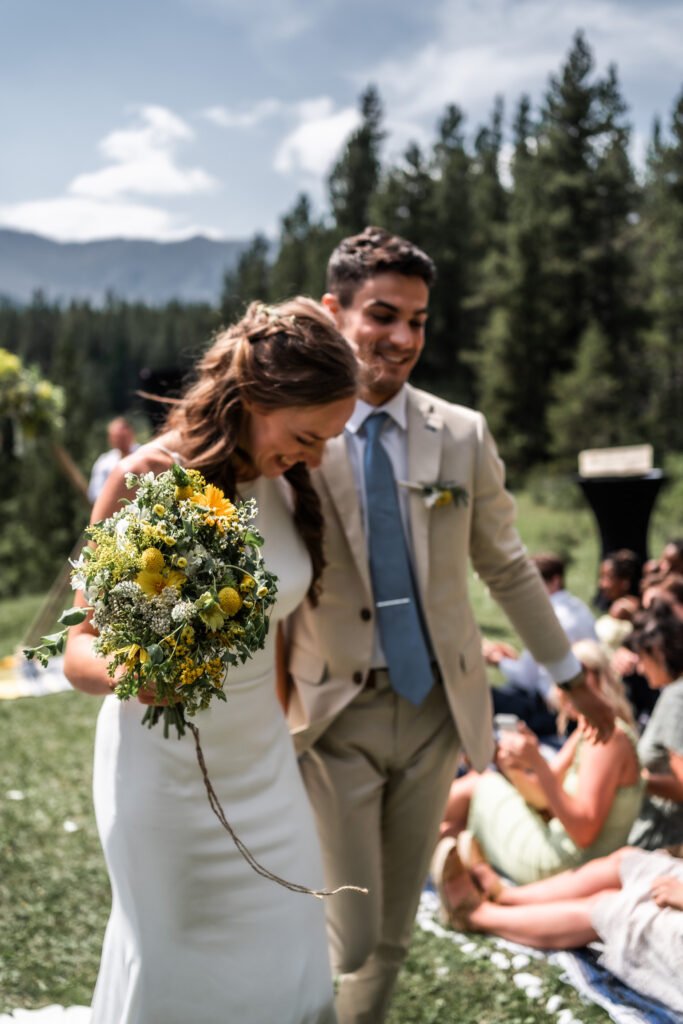 Their Flower Order:
Eucalyptus – Feather x 5 bunches
Matricaria (Chamomile) x 4 bunches
Kananaskis AB (on some crown land in the boonies!)
Q: Why Did You Choose to DIY Your Flowers?
We chose to DIY to help with cost but also to have something time and my bridesmaids could do together! It was so fun to do something creative and girly with my best friends. Even for the time spent together, I would totally recommend doing DIY flowers (even if you don't have any clue what you're doing!)
Q: What Things Did You DIY At Your Wedding?
So our wedding was completely DIY. My dad made the arch from a picture I gave him off of Pinterest and I hand painted my own signs and did all the decorations for the ceremony, picnic and reception myself!
Q: What Was the Theme Of Your Wedding?
The theme of our wedding was "us!" We wanted everything that we chose about our wedding to reflect who we are. The mountains have always been our place for rest (both together and when we were single) and where we have some of our fondest memories of dating. My dad and I had actually found our wedding spot when we went mountain biking a year and a bit before we got married! Besides that, we went for simple and authentic. We wanted it to be Not too flashy, down to earth but with a little fun – just like us! Our main colours were yellow, white and a bit of greenery! Simple, pure and joyful! Again, just like us!
Q: What Was The Best Part Of Your Wedding Day?
Our wedding day was seriously the best day! And every detail from flowers to locations to felt just like us and was so much more than we could have ever asked for, dreamed of or imagined!
Vendors: