Alyssa & Curtis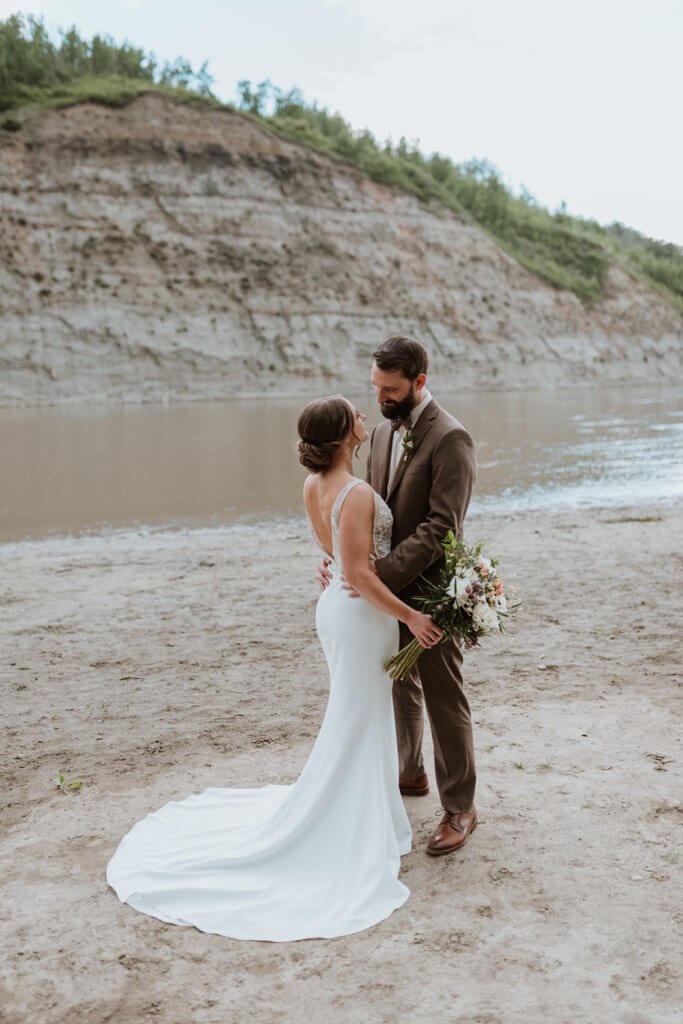 Location of wedding:
Why DIY:
It was an attempt to save some money,  but I didn't expect the process to be as enjoyable as it was. I was blown away by the selection, and the uniqueness of the flowers available. We made a night of assembling the bouquets and boutonnieres – it was my 2 bridesmaids, the moms and I. We watched youtube videos on how to assemble, drank wine, made dinner and put together the flowers, it was great!
Tips for others who want to DIY:
If you are selecting your florals manually, I'd suggest filling your cart and waiting a day or two before you order. I swapped out smaller accent flowers and the colors of larger flowers a few times before deciding on a final order
Refer to an inspiration board and take note of flowers, accents and greens they used
Watch the product videos on the website – it was very helpful to see the greenery and flowers from different angles/their size compared to a person
Theme of our wedding:
We were going for something earthy, a touch boho, but ultimately pretty simple. I think Curtis would have been happy with anything. The earthy tones, wood and gold accents looked amazing and we were really happy with how it turned out. The theme of our wedding was more about bringing our favourite people together after so long of being apart.
Their Recipe:
Anenome – White Panda × 1, (ten stem bu)
Matricaria (chamomile) × 1,
Orange Ranunculus × 1, (ten stem bu)
Green Eryngium × 1,
Burgundy Astrantia × 1,  (ten stem bu)
White Scabiosa × 1,  (ten stem bu)
Mrytal × 2,
Ruscus – Italian × 9,
Weeping Podocarpus × 2,
Indigo Veronica × 1 (ten stem bu)
Last note:
A wedding day is a lot for the bride and groom – is it the best day of your life or is it just another day, what emotions are going to come up, you hope it ultimately leads to a long and happy life together. After experiencing it, my advice is likely similar to a lot of others so take what you need if anything at all-
Feel your feelings fully and in the moment. Enjoy everything as it comes – don't think too hard about what it is and what it isn't because as Ferris Bueller would say, "life moves pretty fast. If you don't stop and look around once in a while, you could miss it."