A huge percentage of the flowers delivered in Vancouver come from local flower farms in British Columbia. However, florists also import from South America and other countries when it's outside the growing season, or there's a weather issue that affects crop yield and supply.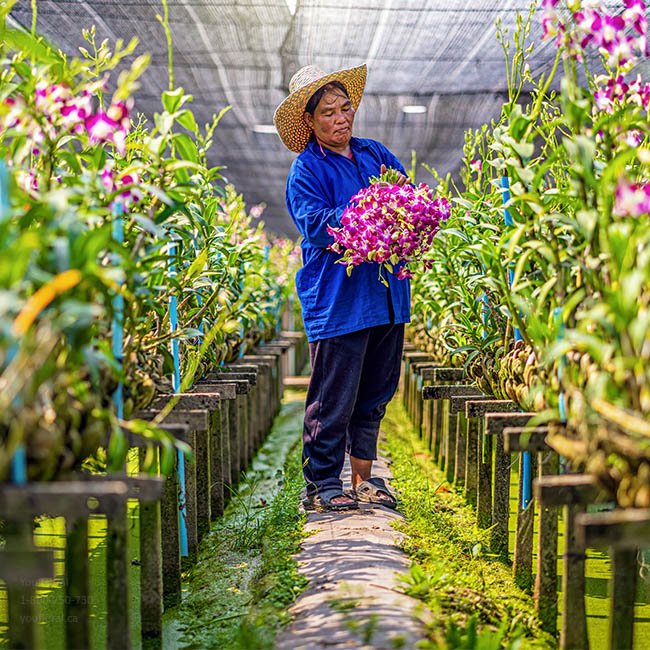 British Columbia has one of the best climates for growing flowers and plants, also known as floriculture.
I came upon an article posted by the British Columbia government about greenhouse floriculture, stating that the floriculture industry in British Columbia makes up 23% of national farm sales, second only to Ontario.
In a report made by the BC Agriculture In The Classroom Foundation called Grow BC – Floriculture Story, there are around 375 flower-growing operations in British Columbia, most of which are run by families. While growers are found all over the province, the majority of production is in the Lower Fraser Valley. Some of the cut flowers they grow include roses, freesia, alstroemeria, and snapdragons. These growers typically use greenhouses to yield all year round and protect their crops from harsh weather.
However, Canada still imports flowers to cover the high demand for them.
According to a report by The Observatory of Economic Complexity about Cut Flowers in Canada, the country imported a total of $92.4 million in 2020, which made the country the 17th largest importer of cut flowers.
Canada imports cut flowers from Colombia, Ecuador, the United States, The Netherlands, and Mexico.
The Best Cheap Flower Delivery Services In Canada, Are You Getting What You Paid For?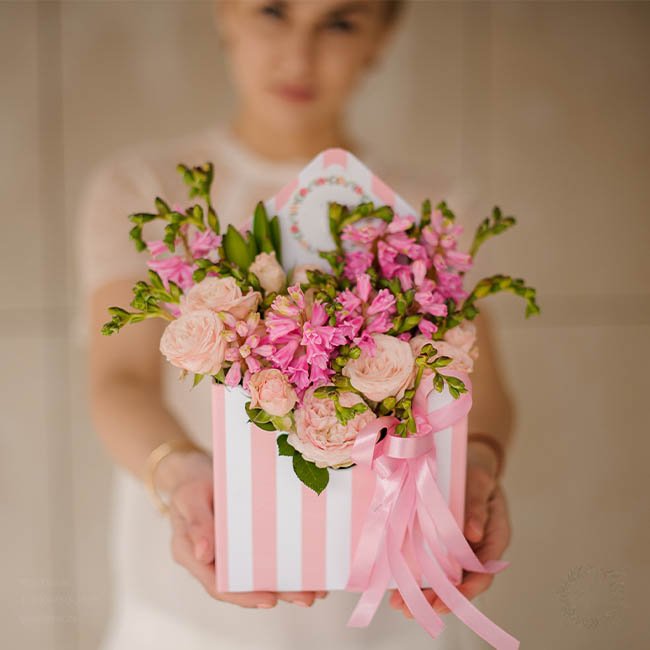 There are a ton of florists in Canada where you can order your online flowery delivery these days.
They come in different price points, and some specialize in a particular event.
While your first thought might be to immediately choose the one with the lowest price, it may not always be the best option for you.
Flowers vary by quality, so the cheapest option may not always be the most effective. You may end up with flowers that are quite wilted or have too many bruised petals. These blooms are purchased by the truckload and may have been sold cheaply because they are past their prime. By the time they are delivered, they may not last as long as fresh ones. As with most things, you could end up getting what you paid for.
However, there are ways where you can find budget-friendly online flower delivery services without sacrificing quality, freshness, or versatility. The key to that is sourcing an online florist that is reliable and has a good reputation, like You Floral.
You Floral is an emerging local online florist in Vancouver, BC. We have been in the business for many years now, specializing in DIY weddings and other special events. We strive to offer the best prices for our online flower delivery and guarantee that our blossoms are fresh.
Need design and arrangement ideas for the flowers you ordered? Check out our post on flower design types and these tutorials on DIY flower bouquets and easy Christmas centerpieces. The tips we shared would help you create your beautiful centerpieces regardless of the price of your blossoms.
Why You Floral Is The Best Website To Order Flowers From
As your local online florist in Vancouver, there are many advantages to ordering flowers from You Floral.
Some perks in choosing You Floral include:
We specialize in DIY weddings
Offers affordable consultation services
Quality flowers are available throughout the year
Streamlined ordering process
Ships directly to your location in the BC, Alberta, Saskatchewan, and Manitoba area
You Floral is a local flower delivery business in Vancouver supporting the area's grower farms. Most of our flowers are sourced from select suppliers within British Columbia. By supporting us, you're also helping sustain the family-run growing operations in the province, strengthening the local economy.
What Is The Best Day To Order Flowers In Vancouver?
As an online florist, I'm often asked by curious folks about the best day to order flowers, and there isn't a straight answer to this.
There are a handful of factors to consider.
The biggest one is the date of your special event or occasion.
For us florists, there is something we call a major floral holiday. You can probably guess which days these are – Valentines, Christmas, Mother's Day, and Thanksgiving.
If your event or occasion falls on a regular day, I suggest securing your online flower delivery order as early as three weeks prior. If your wedding is close to these holidays, I would say six weeks before the date works perfectly.
It may seem too early for some, but there are advantages to ordering in early.
For one thing, you will get a much lower price for the blooms. Flowers tend to increase in price the closer they get to the holidays. This is why a bouquet costs 50% or 100% more on Mother's Day than on regular days. It's just one of the laws of supply and demand.
The second advantage is it guarantees the availability of the flowers you want. The more popular a type of flower is, the higher the chance it would sell out. An excellent example of this would be red roses on Valentine's Day. In a Safnow.org report on Valentine's Day Floral Statistics, red roses account for 69% of all the roses sold on that day. Chances are, red roses would be the first flowers to sell out. Ask any husband or boyfriend who had to go from one flower shop to another on Valentine's Day, hoping to score a bouquet for their spouse or girlfriend.
Another reason shopping early would be the way to go is you can request a particular flower from your online florist, who would have enough time to source it for you. Looking for a certain type of flower for a wedding can be challenging depending on the time of the year, especially if it's outside the growing season. Letting your florist know your needs early on makes it possible to get the blossoms you want without a hitch.
Want more tips on wedding flowers? Check out our blog post on awesome tips for choosing your wedding flowers.
How You Floral Supports The Eco System Of Local Growers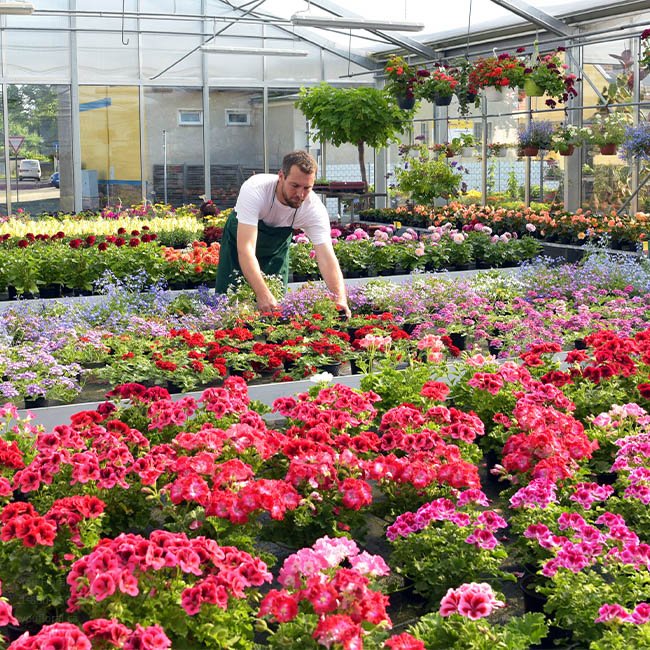 Here at You Floral, we make the most of the thriving local floriculture economy in British Columbia.
We are somewhat spoiled for choices with so many flower growers in the area, so we ensure that our suppliers are trustworthy and able to deliver excellent quality blooms for our customers.
Most of the flowers we offer as online florists come from the farms of local growers. These operations are run by families living in the locality. We are a small local florist supporting another provincial business in BC. We have done this continuously since we started and are quite proud of it.
We only import when it's outside the growing season for particular flowers or when the weather has affected the local supply. By limiting our imports, we continue to contribute to the local economy of British Columbia.
When Looking For a "Florist Near Me," Why Proximity Does Not Matter In Most Cases?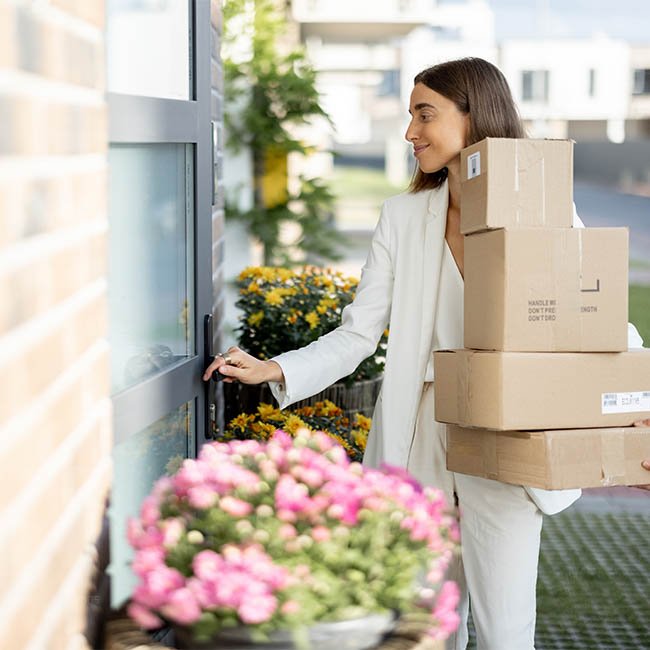 These days, it has become so easy to source the things we want at the tips of our fingertips. All you have to do is open up Google, and you can begin your search for the things you need.
When searching for an online florist, your first inclination might be to begin your search with the words "florist near me." While there are benefits to finding an online florist close to your locale, it doesn't really matter.
Why?
It's because of online flower delivery options.
Online flower delivery has made sending blooms to your loved ones much more effortless. Once you have found a reputable online florist, you can visit their website and order for birthdays, anniversaries, and other occasions ahead of time. This is an effective and surefire way not to miss any special day in your loved one's life.
Online flower delivery has made things so convenient. If you're planning a DIY wedding and need help getting your vision to life, you can request a consultation session with your online florist by activating our chat feature. They can give recommendations and share tips on making certain arrangements. The best part is that these things can be done exclusively online, so you don't have to head to their store in person. Your flowers and greeneries can be delivered fresh to your site many days before your wedding date so they can open in time for the event.
Final Thoughts On The Local Online Flower Delivery In Vancouver, British Columbia
While Canada will most likely continue to import flowers from other countries to meet the growing demand, plenty of local flower-growing farms continue to get support from online florists in the community. With steady backing, these operations will progress and thrive and continue to offer exquisite-looking blooms for consumers.
Need flowers for a DIY wedding soon? Contact us and let us know how we can help.