There are plenty of ways to send flowers to someone in Vancouver, but the most efficient way is through online flower delivery from your trusted boutique virtual flower shop. Your online florist can even have your flower arrangements delivered to recipients as a surprise to your recipient.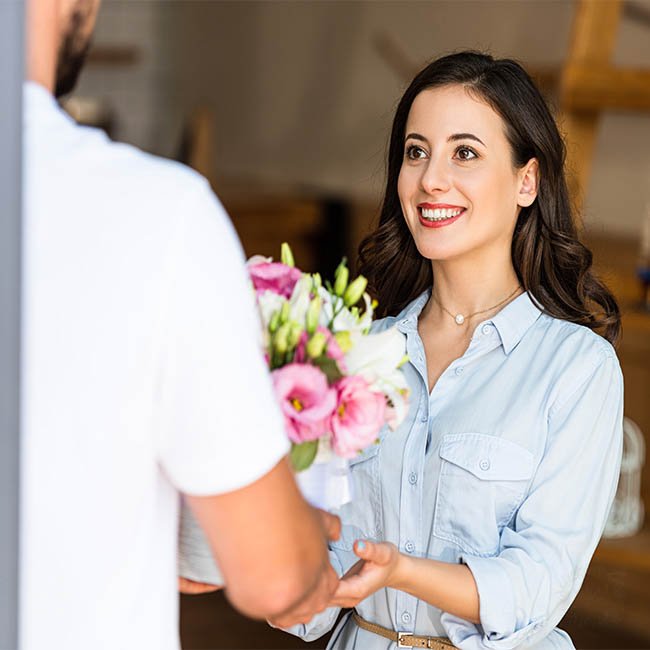 Canadians love flowers.
In research done by Statistics Canada in 2021, they found that in British Columbia alone, the total gross sales of flowers reached 13.7 million.
Source: Statistics Canada. Table 32-10-0452-01 Estimates of field-grown cut flowers area, production, and sales.
There are a few ways to find a reputable online florist in Vancouver. You can ask family and friends for recommendations or google reviews of online florists. Once you have found a few florists you are interested in, you will want to visit their website and see what type of flowers they offer.
Some online florists specialize in particular flowers, so if you have a specific kind of flower in mind, you would want to ensure the one you choose has experience with that type of flower. For example, if you send roses to someone in Vancouver, you would pick an online florist that is experienced and with positive reviews.
Flower Delivery In Vancouver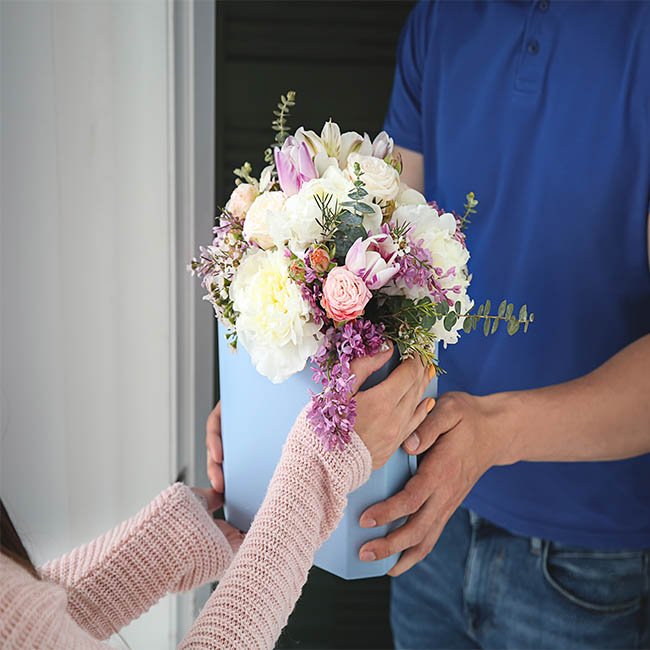 Are you looking for a florist in Vancouver? Look no further than You Floral. We are an online florist in Vancouver specializing in flower delivery. We sell a wide variety of flowers for all occasions.
Most flower delivery is possible in some areas, while orders are delivered. We offer online flower delivery for Greater Victoria, Greater Nanaimo, Kamloops, and Okanagan in British Columbia. Ordering flower delivery is easy and convenient. You Floral also offers a wide variety of credit card payment options.
Perks to ordering from You Floral:
Easy ordering process
Availability of flowers all year round
Same-day and next-day delivery options
Offer design consultation services
You're supporting a local business
Visit You Floral and order your flower arrangements today.
The YouFloral Ordering Process, What to Expect?
As your top online florist in Vancouver, You Floral has streamlined our ordering process to make it as easy as possible for you.
The first step is to browse our collection on our website to get some inspiration. You can choose between our packages or even create your custom bouquets. You can also shop by color if you have a specific preference. Our online florists also offer design consultation services if you have a particular arrangement in mind and need a guide in creating it. There is no minimum order, but our flowers are sold in bunches instead of as individual stems.
We have plenty of flowers on offer – from alstroemeria's to roses and snapdragons. You don't have to worry about availability since most of our flowers are available all year round. Our flowers are locally sourced. We also import from other distant areas when it's outside of the Canadian growing season.
Step two is to set up your online flower delivery. We offer deliveries in British Columbia and some cities in Alberta, Saskatchewan, and Manitoba. We also ship to the rest of Canada and the United States for dried items.
Online flower delivery for regular orders is typically completed on the next day or, in some cases, the same day. For bulk orders for weddings and other events, we recommend getting the flowers many days in advance to give the buds time to open up on time for the occasion.
Additionally, we give tips in this blog post on how to properly unpack your flowers to make sure they look fresh and not wilting for your event.
After you set up your online flower delivery, all you have to do is wait for your blooms to be delivered. Someone should be at the recipient's address to receive the flowers and put them in water. This ensures that your buds last longer and remain beautiful.
The online flower delivery process couldn't be any easier with You Floral.
Can You Deliver to Workplaces or Offices?
I don't know about you, but I always find that flowers on my desk improve my mood at work. They can be a bunch of sunflowers in a tall vase or this mini teacup arrangement from this blog post. It's not just the aesthetics but more about bringing a refreshing aspect of nature into an otherwise stuffy workspace.
There are many known benefits to flowers in the workplace, as shared in this blog post by Planteria Group. With all the positive effects they have, it's no wonder many people choose to avail of online flower delivery to decorate their workplace with beautiful flowers.
Making an order for online flower delivery for your office is pretty straightforward at You Floral. Just like a regular delivery to a home address, a designated person must receive and sign for the orders at your place of business when the delivery takes place.
It's also vital that the person receiving the order knows what to do with the flowers when they arrive so your display doesn't end up drying up and sad. When proper care is given to them, your flowers will not go bad quickly, and they can brighten your office space longer.
Does Someone Need to Sign For The Flowers, The Element of Surprise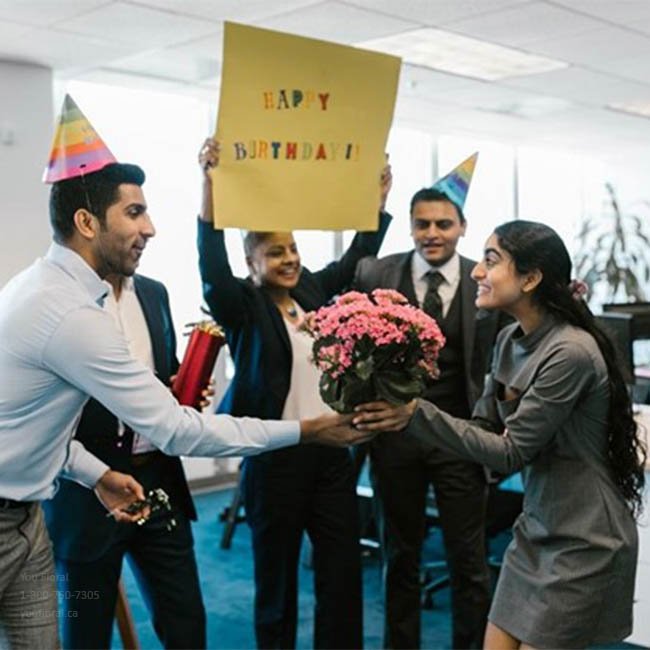 One of the best ways to surprise a special person in your life is to send them an online flower delivery. Even before I started my career as an online florist, surprising my loved ones with a flower delivery has been my go-to for birthdays, Mother's Day, and anniversaries.
Ordering from your trusted online florist is easy enough. But what about the delivery?
You can go about this in two ways.
One way is to address the delivery to the intended recipient. The element of surprise will still be present since the recipient has no idea they will receive lovely flowers when they're called to accept the delivery. Sometimes it may be challenging to to do a surprise delivery if the recipient lives in an apartment or gated community but we will work diligently with you to plan the surprise and ensure that your loved one recieves your gift.
Another option is when you intend for the recipient to get the flowers together with other things, like surprise birthday celebrations. In that case, it's better to address the online flower delivery to the recipient's co-worker. The co-worker can then present the bouquet or arrangement when the celebration begins.
If you choose the second route, ensure the co-worker knows where to keep the flowers until the celebration begins. Here's a helpful article on how to properly store flowers after you have received them.
Whichever way you go about it, there is no doubt that your recipient will love and appreciate this sweet gesture.
What If The Flowers Are Damaged During Delivery? What to Do in The Worst Case?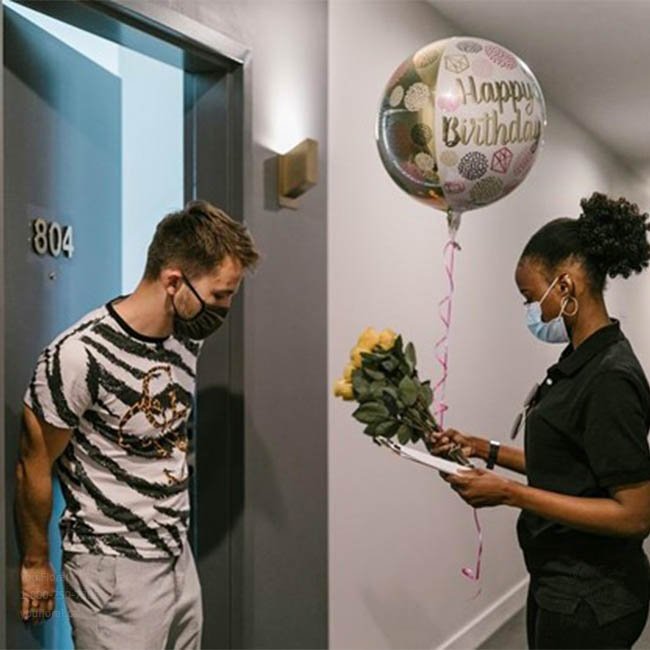 At You Floral, we inspect every order to make sure that the flowers we send out to customers are of the best quality.
However, accidents can sometimes happen while the flowers are in transit, and they don't look nice when you receive them.
As a florist, the first thing I would recommend when you see that the flowers look a bit dehydrated when they arrive is to put them in water. This may seem like a solution that's too simple, but this makes a lot of difference. Flowers are living things, and as such, they need water to survive. It may just be what the blooms need after being in transit overnight.
If you have a large order, it's sometimes unavoidable that a few of your flowers will turn out wilted or are starting to brown. Since you are purchasing a wholesale product, not every flower will be perfect, but we come as close as anyone in the industry on quality.
In the rare case, that you received the wrong color of flowers from the one you ordered, it is possible to ask for a refund. For example, if one ordered pink roses and they got red instead. Color variations may vary depending on the season, so getting a slightly darker shade of pink roses instead of a medium shade of pink can sometimes happen.
The best course of action if you receive damaged items upon delivery is to contact You Floral customer service so we can resolve the issue.
What If Your Flowers Arrive Late?
There can be a high demand for online flower deliveries during holidays and peak wedding season, with many orders coming in and getting shipped from your online florist.
While your online florist strives to get every delivery to arrive on time, other things are out of our control. One of those factors is the courier.
You Floral recommends ordering in advance not just to guarantee the availability of your flowers but to make sure they arrive on time for your event. For instance, wedding flowers should arrive many days before the wedding date to give the buds enough time to open up and be perfect for the day. This process also ensures that the flowers are on hand for the event, and the organizers won't have to worry about them. Don't be afraid to ask us any questions that you may have about logistics we have lots of experience and hard-won wisdom when it comes to sending flowers last minute.
Final Though About Online Flower Deliveries In Vancouver
While there are plenty of online boutique florists you can get your flowers from in Vancouver, making sure that you are sourcing from a legitimate and trusted supplier is vital to ensure the success of your order.
Contact us a YouFloral, and let us work together to create your dream flower arrangement today.