How To Make A Hanging Flower Curtain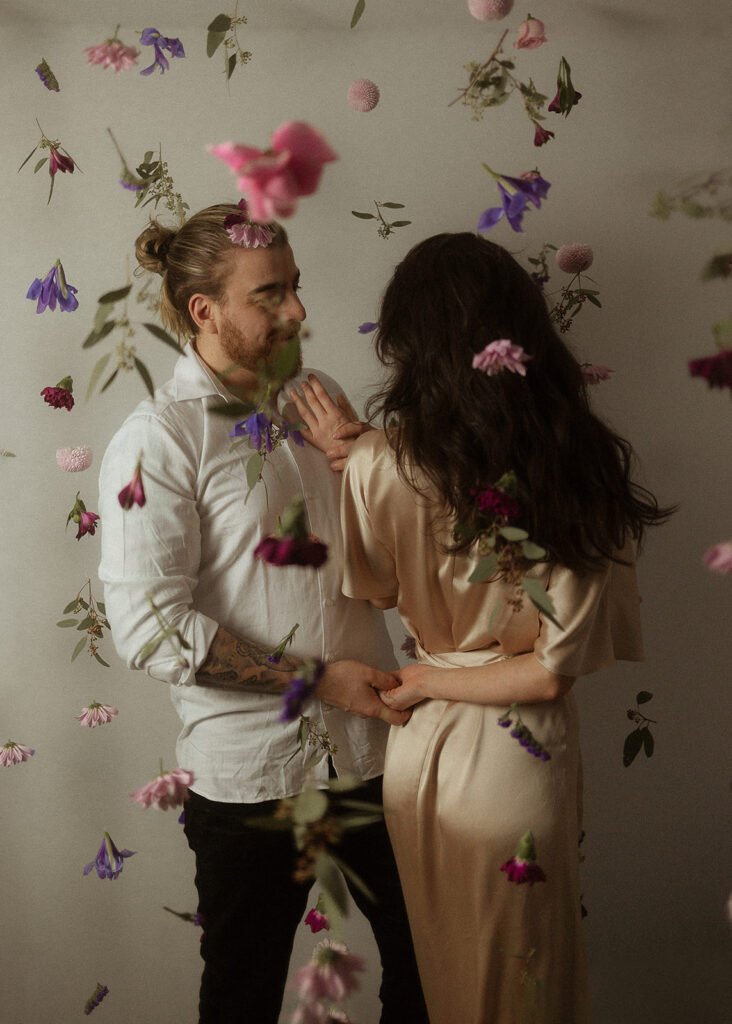 I LOVE creating flower arrangements that hang from the ceiling. They're so gorgeous and completely transform a space! In this blog post, I'll show you easily step by step how to create a simple and sophisticated floral ceiling installation. You can suspend the flowers from the ceiling, or your wedding arch, or a piece of driftwood… the possibilities truly are endless! For this photoshoot (done by the talented Freya Photography), the flowers were hung curtain style above a bed to make a steamy boudior session go really upscale! (a shoot styled by Your Dream Theme)
Logistics
The boring part… the logistics of how to make your flower hang from the ceiling! You'll need anchor points to either be pre-existing, or you can add them in. Keep in mind where you're planning on installing, and the help and time you have. There are a couple things to consider/think about before starting on your floral installation.
Ceiling type:
If you have a textured ceiling, command hooks might not stick
Ceiling height:
Do you need a ladder in order to install?
Permission:
Does the venue permit hanging installations?
Time
When do you get access to the venue? Do you have enough time to set it up?
Helpers:
Do you have a couple folks to help you?
Equipment:
You'll need a step stool at minimum, and a ladder potentially
Hanging height:
How high do you want this to hang above the dance floor/head table etc… you don't want people to inadvertently knock it down with their wild dance moves!
Flowers Used:
Because your flowers won't have a water source, its important to make this installation close to the event time (within 24 hours) or to use flowers that dry well/don't need water as much. Flowers like statice/craspedia/limonium/babies breath/carnations are super hardy and are more resilient without water compared to flowers like ranunculus/anemone.
Supplies Used: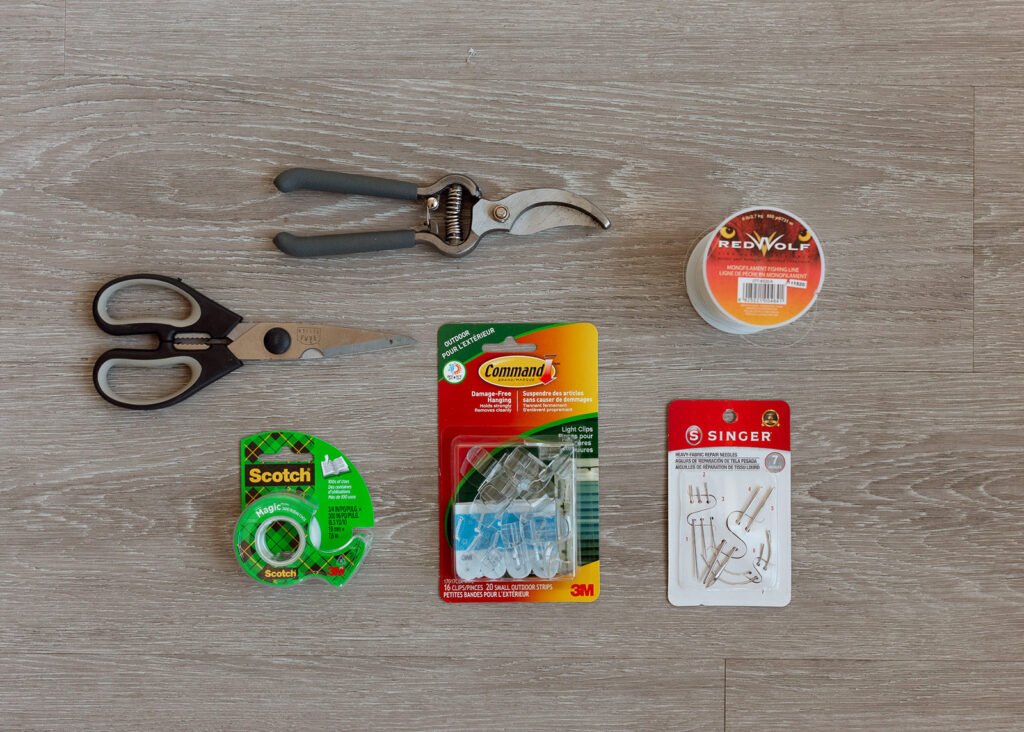 Fishing Line
Pruners (to cut flowers)
Measuring tape (optional)
Fishing Line
Hooks (command hooks or metal screw hooks)
Tape
Scissors
Step 1: Attach Your Hooks From The Ceiling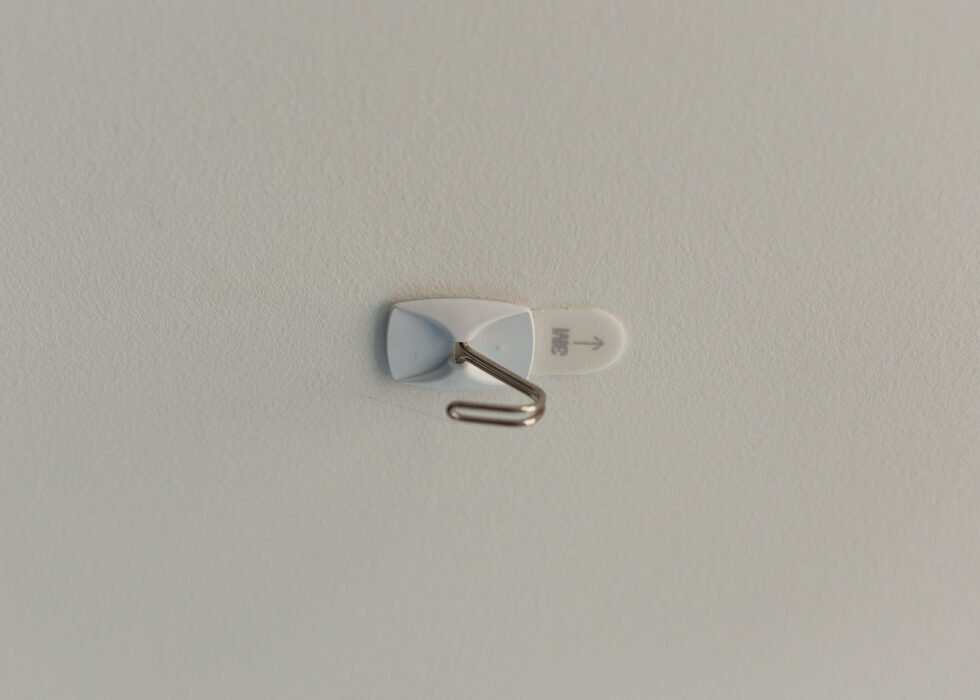 We used command hooks, keep in mind whether your ceilings are textured (command hooks might not stick). You could also use screw in hooks (make sure you have permission to leave holes). If you're not super tall, you'll probably need a step stool or ladder!
Step 1: Thread The Needle
Using a sewing needle (we just used a regular one), thread fishing line onto it. Tie a knot (we tied a couple) on both ends of the line.
Step 2: Cut Your Flowers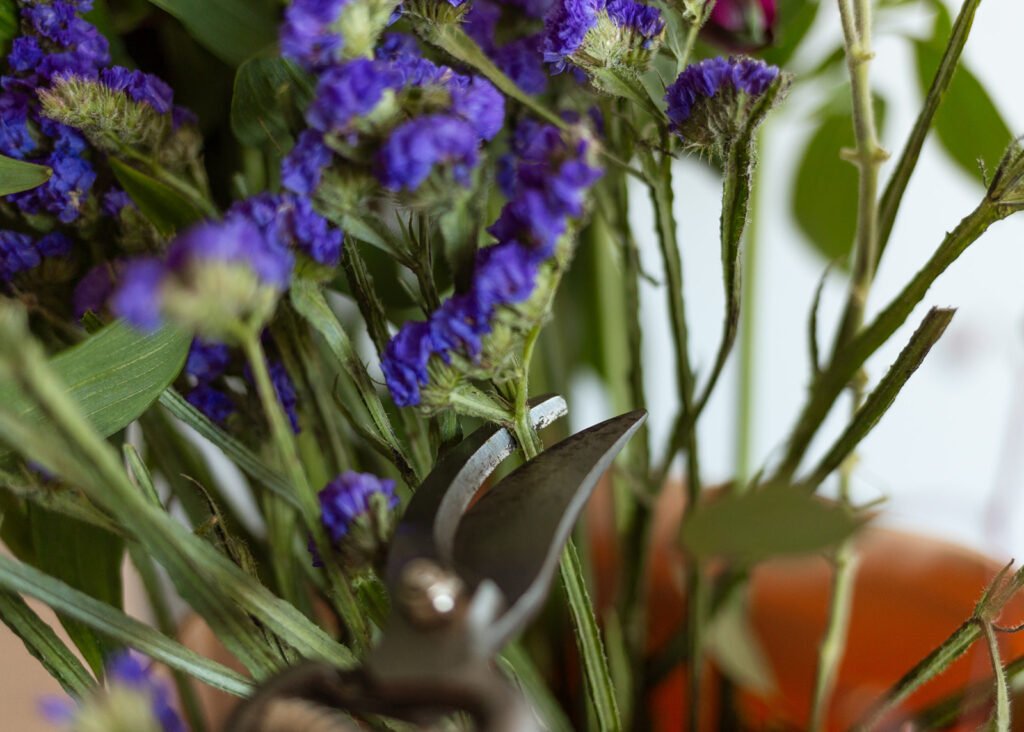 When you get your flowers, you'll want to store them in water up until you make your installation. Flowers are living things, thus they need water to stay alive! Your flower curtain has a limited lifespan out of water (we say around 24 hours), so keep those flowers hydrated up until you need them! Cut the flowers short (stems don't look super attractive hanging from the ceiling).
Step 3: Thread The Needle Through The Flowers
Thread the needle close to the base of the flowers, using your needle and thread
For some flowers (like this mum), we put the line right through the centre of the flower, and through the stem. For the flower in the photo above, it was easier just to go through the stem.
For this flower (iris) we went just through the stem as well.
Step 4: Put Some Tape On The Line
To make sure the flowers wouldn't slide down the fishing line, we used a piece of tape on the line to hold it in place. Some people use knots, but that is super challenging to navigate fishing line with flowers on it… and knot with all that going on!
Step 5: Keep On Going!
Keep on threading! It take a fair bit of time to thread all the flowers onto a fishing line, so make sure you have lots of helpers, time, and delicious beverages!
Step 6: Attach To The Ceiling
Take your completed line, and attach it to your hooks hanging from the ceiling.
Step 7: Marvel At The Beauty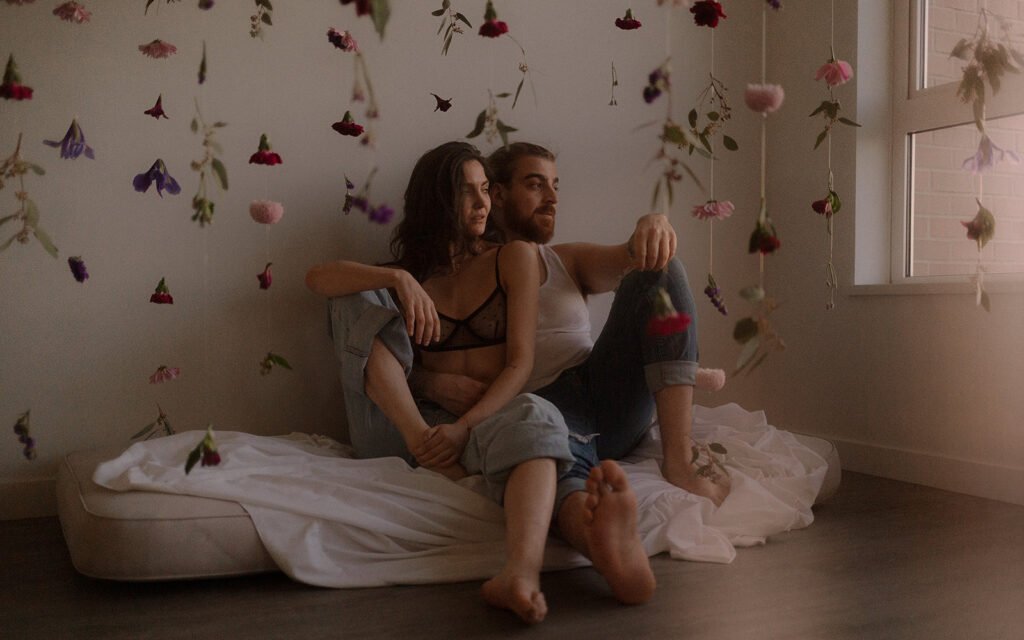 We hope you enjoyed reading our blog and learned a thing or two about how to make a hanging flower curtain! We love connecting with folks so drop us an email (hello@youfloral.ca) or reach out on IG @_youfloral
Thanks for reading!
xoxo
Sarah & Tracy