We Know That You Love Greenery… You've Got Visions Of Having A Bouquet Full Of Texture And Depth, And Love How Lush A Greens Only Bouquet Is.
You Floral Is Hands Down The Leader In Western Canada When It Comes To Bulk Eucalyptus For The DIY Wedding. We Have A Huge Selection Of Florist Grade Greenery, Shipped Right To Your Door. With Our Overnight Shipping And Unparalleled Customer Service, We Take All The Stress Out Of It, So You Can Let Your Artistic Side Bloom.
Everything You Need In One Box!
order from our most popular varieties of eucalyptus
Why Choose You Floral For Your Eucalyptus
DIY'ing is easy with You Floral. We offer pre-designed DIY flower collections, eucalyptus (and other greenery), garlands, and custom designed floral packages.
With our service, you don't have to stress about getting quantities right or creating designs from scratch. Simply select from our collections and we ship all the flowers or greenery you need!
How To Use Eucalyptus For Your Wedding
You probably already know exactly where you want eucalyptus in your wedding (everywhere is a totally legit answer…), but if you're stumped, we have a couple ideas for you:
Eucalyptus table garland
Eucalyptus arbour decor
Eucalyptus wedding centerpieces
Eucalyptus wedding bouquets
If you have the vision but need help on the execution, we are here for you – book a consult with us, and we can walk through your pinterest board and fill your head with even more ideas!
What Is Eucalyptus Garland? Wedding Trends 2022
Like everything in life, there are always options! If you're wanting eucalyptus garland in your wedding…you can opt to go for a big luxe pre-made garland, ready to go… or you can make your own, super easily, by cutting your eucalyptus into smaller pieces and loosely laying it on your table. If you want us to talk you through this… book a consult today!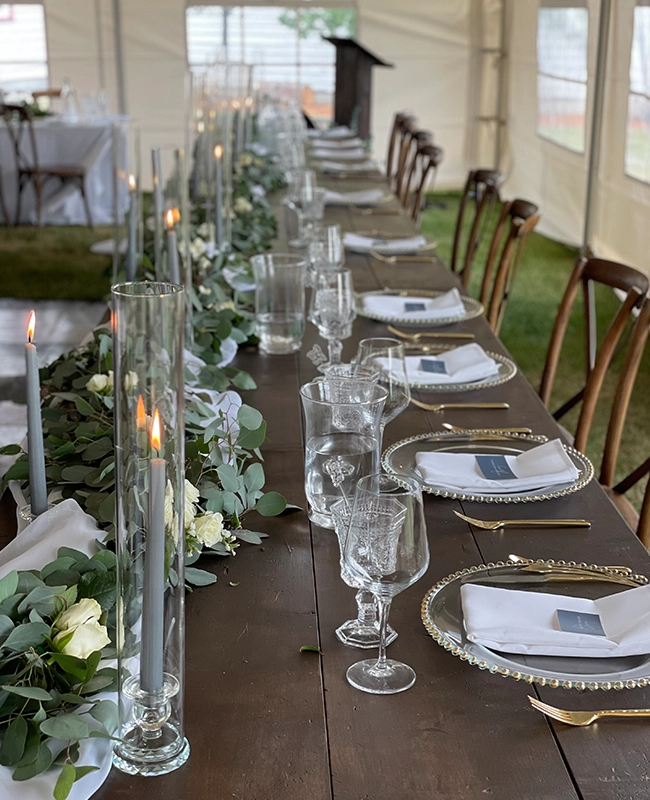 Eucalyptus Wedding Centerpiece Tips
We love using eucalyptus for centerpieces…for so many reasons:
Eucalyptus is super long lasting
Eucalyptus smells amazing
Using greenery in your wedding is a cost effective alternative to flowers
There are many ways to use eucalyptus in your wedding, a couple ideas we love are:
Eucalyptus garland (whether you buy pre-made or DIY it yourself)
Vintage vases filled with eucalyptus clippings (amber colored bottles look great)
Eucalyptus nestled around pillar candles
Wondering How Much Eucalyptus To Order?
Eucalyptus is so lovely, you can never have enough! If you're planning on DIY'ing your own eucalyptus garland for your wedding centerpieces, we recommend 1 bunch per 8 foot table for a minimalist, sleek look… and if you're wanting to go more luxe, we recommend 3 bunches per 8 foot table. If you'd like us to walk you through it, book a consult today!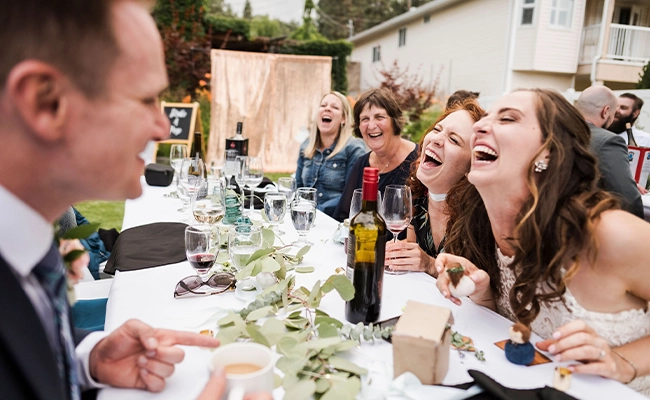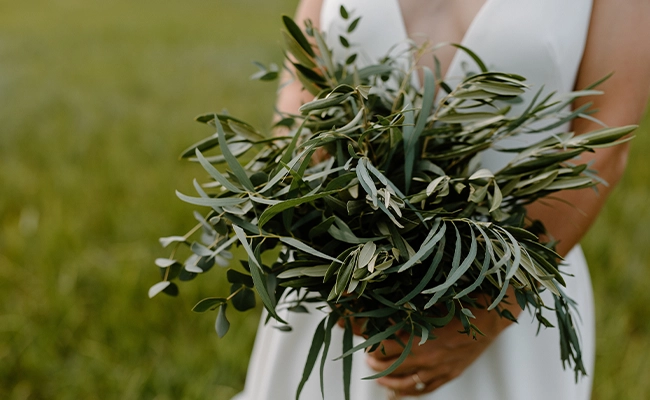 What Does Eucalyptus Smell Like?
If you've never smelled eucalyptus, you're missing out! It smells like a spa…so refreshing and light. If you love the smell, the most fragrant variety is baby blue eucalyptus… if the smell really isn't for you, silver dollar eucalyptus or parvifolia eucalyptus have a very subtle mild scent.
We will overnight priority ship the bulk eucalyptus (and flowers too if you choose to add on) to the location of your choice 2-3 days before your wedding. We have a number of blog posts dedicated to teaching you how to assemble your arrangements, and many YouTube videos as well.

Select Greenery
Create your own bundle with bunches of wholesale stems (we have a huge selection).If you want something you don't see, we might be able to special order it. You can also work with our flower experts to create a unique package customized to your vibe.

Learn From The Pro's
Peruse our vast collection of blogs and tutorial video's…you'll be feeling confident and ready to take on the world with our tools in your toolbelt

Receive & Arrange
Greenery shows up to your door. Following our instructions, unpack your beautiful greens and assemble your arrangements. Time to show the world your talents.
We Have Some Of The Best Wedding Bouquet Idea's. So Don't Be Afraid To Ask!
Have you been dreaming of your perfect wedding day? We can help you turn that dream into a reality. Doing flowers for your own wedding can be overwhelming so why not ask an expert? We provide one on one consultations where we will fully guide you through customizations and help you save on the cost of diy wedding flowers. We can recommend what will work best for your wedding bouquet and give you ideas for any theme and vibe. If dried flowers are more your thing, we have options for you to make dried flower wedding bouquets, flowers that will last a lifetime!
Canada's Number One DIY Wedding Bouquet Provider
You Floral is second to none when it comes to DIY wedding flowers and has been featured in the following publications featuring bouquets arranged using our bulk flowers
Here Are Just A Few Of The DIY Wedding Flowers We Specialize In:
DIY Wedding Arbour Flowers
DIY Dried Flower Wedding Bouquets
DIY Spring Wedding Bouquets
DIY Winter Wedding Centerpieces
DIY White Rose Wedding Bouquets
DIY Rustic Wedding Bouquets
DIYTropical Wedding Centerpieces
DIY Vintage Wedding Centerpieces
DIY Hydrangea Wedding Bouquets
DIY Eucalyptus Centerpieces
DIY Hanging Flowers Wedding
DIY Wedding Aisle Flowers
DIY Indian Wedding Centerpieces
DIY Wedding Arch Flowers
The sky is the limit as to what you can DIY… we have the florals and greenery you need, and the support for you to achieve your vision. You'll have the highest quality, florist grade flowers delivered straight to your door directly from our warehouses…cared for with the utmost attention and care.
Here's What Our Happy Newlywed's Are Saying:
Saadet Avcı
February 25, 2023.
For adding an elegant air to my home
Christina M
February 22, 2023.
I had such a lovely experience with YouFloral. The customer service was excellent from quick email responses, flower suggestions, and frequent updates on my order. The flowers arrived quickly, they were well protected, and very beautiful. I would definitely order again from YouFloral. Sarah and her team are great!
Alycia Miller
February 17, 2023.
I ordered a wall arrangement for my salon and it's safe to say I'm obsessed and it completes the space ! Thank you so much for the beautiful addition to my studio!
natausha furlong
February 16, 2023.
Sarah is such a creative, kind and passionate person. I love going to her classes and learning how to make gorgeous arrangements. Wouldn't recommend anyone else.
Kith Kin Charcuterie
February 15, 2023.
Amazing floral, amazing attention to detail and so easy to communicate with. Such an amazing experience!
Shelley Jomaa
February 15, 2023.
Beautiful Valentine's Day bouquet of flowers, with the option to purchase cookies, which were delicious. Easy and flexible pickup options, beautiful flowers, reasonable prices. Highly recommend!
Megan Park
February 15, 2023.
I had an amazing experience working with You Floral. Highly recommended.
Emily Lavinskas
February 15, 2023.
I recently received some beautiful dried florals from You Floral, and I have to say I think they're the most beautiful dried flowers I've seen yet, and with such a great selection. They shipped from BC to Ontario with no damage at all, and I was able to use the flowers to create a wreath that now hangs on my bedroom door. Highly recommend, both for dry & fresh flowers if you're local to the shop!
Jesse Duncan
February 3, 2023.
The most stunning customized dried arrangement! The design, colors, and details were so perfect! Highly recommend! 🤍