There are several ways a person can order funeral flowers, but the most convenient one is through online flower delivery. Your online florist can recommend which flowers would be more appropriate for funerals.
While one might think that holidays are the main reason people purchase flowers in Canada, it's a different and more solemn occasion that lands at the top spot. An older report was done by the Flower Export Council Incorporated called A Study of The Canadian Flower Market. In that report, the FTD Flower Business Fact Book states that funerals, holidays, and well wishes are the country's top three causes of flower purchases.
I read in the report that while the main source of these purchases is flower shops, online flower delivery, toll-free ordering services, and public kiosks are becoming increasingly popular amongst consumers. Convenience is the primary reason customers choose non-traditional ways for their flower purchases.
How Do I Order Flowers For A Funeral?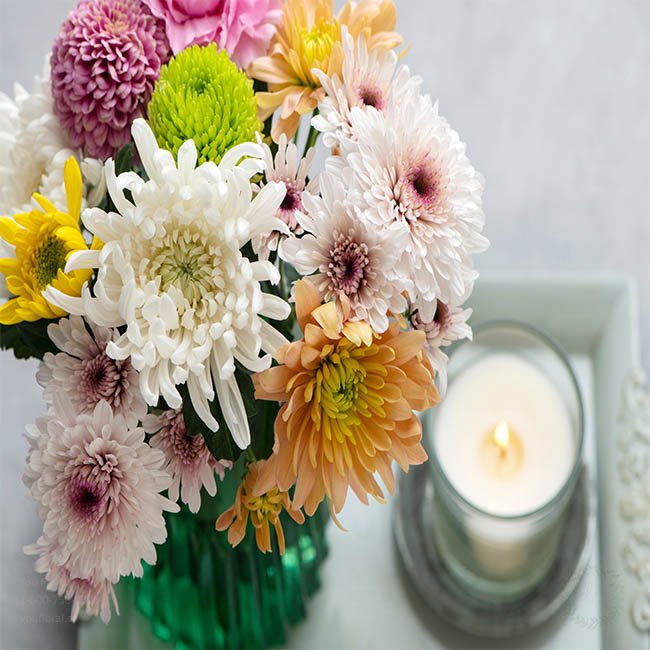 Sending flowers to funerals is the ideal way to express condolences and compassion for their loss. Funeral flower arrangements are usually one-sided and fan-shaped, standing arrangements. They are designed to be a significant floral tribute at a funeral service. Similarly, there are also funeral bouquets and basket arrangements. Most funeral flowers are intended for display on an easel or to be laid on or around a casket.
There are a couple of ways to order funeral flowers in Canada, but the most practical one is through online flower delivery.
Before I became a florist, I went through the process of buying flowers for a funeral through online flower delivery. I found the process convenient, especially if you were like me, who isn't sure what flowers to choose to fit the purpose. After all, flowers that would typically be ideal for Mother's Day or a wedding aren't necessarily suitable for bereavement. The online florist I consulted with at that time was so helpful and knowledgeable that I felt at ease with the whole transaction.
It's vital that you let your online florist know the purpose of the flowers. They are experienced and experts in their field, so they can give suggestions on the type of flowers as well as how to arrange and store them in a way that will last longer. Funeral flowers will be exposed to the elements in the cemetery, so they have to be well-hydrated for the duration of the ceremony.
Your online florist would also need to know the date of the funeral, so they can adequately estimate the date you will receive the flowers. This will give the buds enough time to bloom for the funeral.
You can then wait for your online flower delivery to arrive. Don't forget to follow our tips on properly unpacking your flowers in our blog post. This will help extend the life of your blooms.
What Flowers Are Appropriate For a Funeral Service?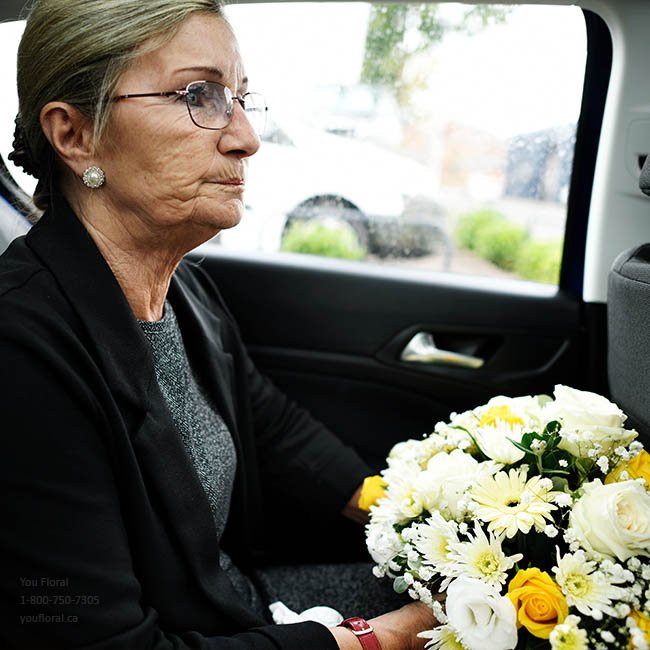 When it comes to funeral flowers, you have several options to choose from.
Memorials of Distinction UK posted The Definitive Guide To Funeral Flowers, and they have recommendations on which flowers are more fitting for funeral services.
Flower Recommendations for Funerals include:
White lilies are highly popular as funeral flowers. They symbolize restored innocence, peace, purity, and sympathy.
Gladiolus is usually used for standing arrangements. They represent sincerity, strength of character, and moral integrity.
Chrysanthemums have commonly been used in Asia and Europe as funeral flowers. These flowers stand for death and mourning in some cultures.
Carnations are typically used as funeral flowers because they can keep them for a long time. White carnations mean pure love, which makes them ideal for funerals.
Peace lilies are often associated with the Virgin Mary by Christians. The flower also represents peace and harmony.
Pink and white orchids connote everlasting love for the deceased. Phalaenopsis and dendrobium orchids are usually the ideal choice for sympathy flowers.
Hydrangeas are used as an accent flower in funeral arrangements. These flowers are seen as a symbol of heartfelt feeling and emotion. Hydrangeas are known to wilt prematurely, so check out our hydrangea SOS post for tips to help keep these longer.
Aside from floral recommendations, your online florist can guide you on which arrangement best suits your purpose.
The Different Types of Floral Arrangements for Funerals Are:
Inside pieces are the flowers decorating the inside of the caskets. These are placed as clusters, sheaves, pillows, or fashioned into crosses. It's customary for these inside pieces to be given by younger relatives of the deceased, like the children or grandchildren in the family.
Floral basket arrangements can be sent to the church, funeral parlor, or bereaved family's home through an online flower delivery service if they are to be handled by the staff or handlers. They can be found adorning tables or the ground surrounding the coffin and come in different shapes and sizes.
Casket sprays are the floral arrangements placed on top of caskets. These are typically used for full coffins, while a half-casket spray is more suitable for open caskets. The family of the deceased usually purchases these.
Standing sprays are elaborate floral displays set up on an easel. Shaped like a heart or a cross, these are placed in a notable position near the casket. These can be ordered from your florist and delivered directly to the mortuary as an online flower delivery.
Wreaths have long been popular as a funeral arrangement because the circular shape represents eternal life. These are commonly brought to the cemetery.
Table arrangements like plants and flowers in vases are given as sympathy gifts or used as displays for post-burial events or get-togethers. These are traditionally smaller than gift baskets and are made up of fewer flowers.
Whichever way you go with the arrangements and floral choices from above, the important thing is the message they convey – sympathy and condolences to the bereaved.
How Much Should You Spend On Funeral Flowers
Several factors will determine how much one should spend on funeral flowers.
One of the most significant aspects would be the type of arrangement you want and the flowers that will be included.
Naturally, an elaborate floral tribute will cost more. In a post by Canadian Funerals on Ordering Funeral Flowers in Canada, they estimated that online florists usually charge from $129 up to $300 for standing sprays.
Sympathy flowers, which are meant to be sent to the family, will generally range from $70 to $120 for simple bouquets.
Online flower delivery services are often utilized by friends and family members who can't attend the funeral ceremony due to distance and schedule. Your online florist can schedule the delivery accompanied by a card with a personal note expressing your condolences for the loss.
Sending Flowers To Friends and Acquaintances When Someone Passes Away
Sending sympathy flowers to a bereaved friend or a floral tribute to their deceased loved one is the perfect way to express your sympathy and condolences for their loss.
It would be wise to call the family or funeral director before contacting your florist. The family may have special requests regarding funeral flowers that you need to consider before ordering. You can send funeral flower arrangements directly to the mortuary or church where the funeral services will be held. Your florist can do this through online flower delivery.
You can choose from several arrangements depending on your budget, how well you know the deceased, and personal preference – ranging from a simple sympathy bouquet to a more complex and decorative floral spray. If you're ordering blooms in bulk and DIY'ing your floral tribute, you can check out our post on design flower types. This will serve as a guide for matching and combining flowers with greenery.
How You Floral Can Assist You During A Difficult Time
At You Floral, we operate with the utmost respect and sensitivity to our grieving customers. We understand that you are undergoing a difficult time and would need assistance with arranging things related to the death in the family.
When you contact us to inform us of your flower needs for a funeral, our professional and friendly online florist will let you know about your options. Questions will be asked about the volume of flowers needed as well as the date of the funeral. It's crucial for us to know these details, so we can ensure that your blooms will arrive on time. After all, the last things you need during times of grief are inconveniences and delays to your orders.
Someone needs to be at the recipient's address when the flowers are scheduled to be delivered. The buds need to be appropriately unpacked. We will be available for contact during business hours should there be issues with the products and will try to resolve them as soon as possible.
Last Thoughts About Ordering Online Flowers For Funerals
While flowers most often represent joy and celebrations, the beautiful blooms can also bring comfort and peace to those who are grieving. A loved one's passing is marked with sadness, but this could also be a time to celebrate the life they lived.
Give us a call at You Floral today. We cater to DIY'ers in the British Columbia, Alberta, Saskatchewan, and Manitoba areas.